A traditional wok is simply a round, versatile pan used above the flame burner. Invented during the Han dynasty in China, it was basically designed to dry out tea leaves, vegetables, and meats. Over the centuries, it has been used for several purposes. But the basic structure of wok has always remained the same. Now, the wok has been used for stir frying which needs adding oil to a hot pan and cooking food instantly and searing flavors of sauces and oil to all ingredients. Dishes get a unique flavor when cooked in a wok, which is known as the 'breath of the wok' by Chinese.
You can now cook your food with the same authentic Asian flavors with the best electric woks. These cooking tools are designed to get hot quicker than traditional stove top models. These cooking tools are handy with easy to clean nonstick surfaces. So, you can easily slide your culinary dishes on the serving dish without adding extra butter or oil.
In small homes or dormitories where space is very limited, you can have electric woks which are very versatile cookware. They can be used to make deep-fried dishes, stir fries, and soups. They really serve the purpose of a hot plate, yet only need one pan to create different dishes.
It makes cleanup really easy and it needs less time and water to wash dishes. Electric woks heat up faster, set up easily, and make it easier to get all the pros of healthy Asian dishes.
Best Electric Wok Reviews For 2018
1. Presto 5900 1500W Stainless Steel Electric Wok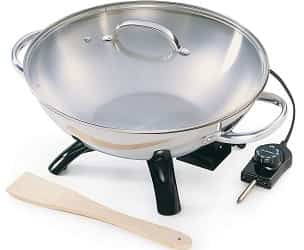 Presto 5900 1500 Watt stainless steel electric wok is your easy and quick way to prepare smoking hot stir-fry meals. Make your healthy stir-fry meals within minutes for you and your family with this electric wok. It sears ingredients in less oil and fat and preserves nutrients with fresh flavors, colors and textures.
Key features
1500W heating element – fast, even heating with aluminum-clad base
User-friendly electric wok with stainless steel body
Tampered glass cover with stainless steel handle and rim, side loop handles
Comes with long wooden spatula
Dishwasher safe lid and wok
2. Aroma Housewares AEW-305 Electric Wok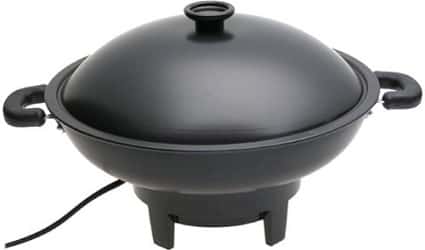 Aroma Housewares AEW-305 is a sleek electric metal wok designed to heat up faster and maintain its heat as you cook. It locks in the flavor of foods for best results every time. It gives great versatility with complete range of temperature controls. The domed lid and inside of wok are coated non-stick to make cleanup and operation easier. Along with just for stir-fry, it is also ideal for steaming, braising, and tempura. Now you can make your traditional and modern Asian dishes with ease.
Key features
7-quart capacity and high domed lid
Complete temperature control
Quick heat-up with great heat retention
Cool touch handles and base
Durable non-stick coating
3. Breville BEW600XL Hot Wok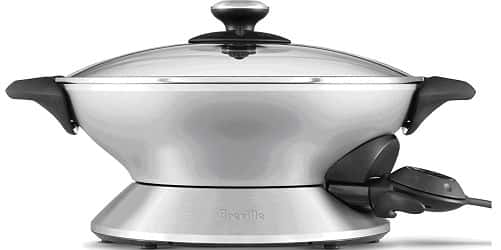 Just like cooking on gas stove, this amazing hot wok from Breville provides even heat distribution across the corners of wok. It improves its ability to sear in high heat. Its aluminum layers are heat responsive to maintain high heat for searing in moisture and food. It provides emulate 425F authentic Asian cooking style with 15 accurate heat settings.
Key features
Die-cast wok bowl with stainless steel base
Quantinaum non-stick coating
Temperature control removable probe
Dishwasher safe lid and bowl
Cook 'n' Look glass lid
4. Sonya Electric Shabu Shabu Hotpot with BBQ Grill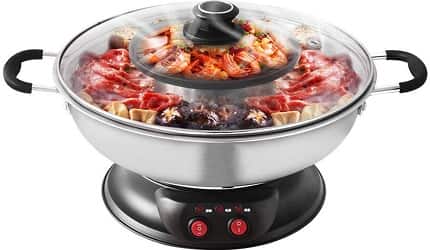 You can now enjoy at Hotspot or Shabu Shabu while grilling seafood like shrimp and other meat at the top with Sonya Electric Hotpot and BBQ grill. It can make cooking while eating comes true. You can enjoy all kinds of dishes and serve your family and friends. You just have to put all the ingredients in this pot or on the grill plate. It is ideal for family get together or having fun with friends.
Key features
It comes with BBQ grill so you can enjoy hot pot and shabu shabu at the same time.
It has removable grill pan and cooking pots for easy to clean up and use.
1200 watt hotpot with 600 watt BBQ grill for faster heating
Anti-skid feet so pot remains still evenly
Heat resistant handle to keep your hands safe from high temperature
5. Starfrit 024404-002-0000 Handles Electric Multi-Pot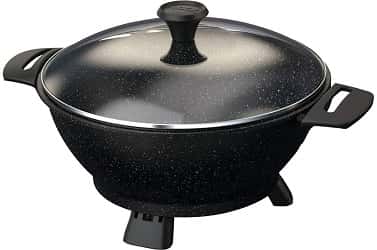 This electric multipurpose pot from Starfit is the best companion for your next party as it can keep your food ready to eat and warm all the time. It is also amazing as a wok for different types of foods like stews, soups, chilis, sauces, and sautés. It has got the amazing Rock Tec surface treatment for non-stick surface which is 3x better than typical non-stick cookware. So, you can easily enjoy it with your friends and family without cleaning woes.
Key Features
Dishwasher safe and easy to clean
Tec surface enhancement
Cast aluminum base
Tempered glass lid
Adjustable temperature control
ETL certified
Non-slip feet
6. Presto Stainless Steel Electric Wok by Supernon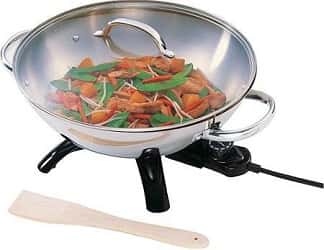 Cook your loved stir-fry meals easily and instantly with this electric wok by Supernon. The Presto stainless steel wok cooks different types of Asian entries like meat, noodles, and dumplings. This electric wok has appealing stainless steel handles and body, along with stainless steel handle and rim. It has aluminum base to provide even heating with 1500W heating element for high searing temperatures for stir-frying. This stainless steel wok sears ingredients quickly in less oil to preserve fresh colors, nutrients, textures and flavors.
It has Control Master Heat control system to maintain cooking temperature in itself. It is designed to save your cooking time and is also easy to clean. Presto Stainless steel electric wok is dishwasher safe and fully immersible.
Key features
Wok and cover are completely dishwasher safe and immersible
1500 watt heating element for high searing temperatures for stir-fry cooking
Aluminum-clad base for even heating
Control Master heat control for automatic cooking temperature maintenance
Tempered glass cover and stainless steel handle and rim
7. Breville EW30XL Electric Gourmet Wok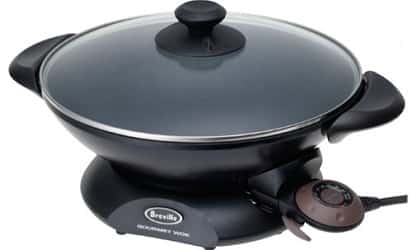 Breville EW30XL electric gourmet wok has truly upgraded the electric wok design in each aspect. Now you can whip up delicious and healthy stir-fry meals with this handy and dashing electric wok. It has 15 settings for variable heat control, including high sear. You can control cooking time and temperature with precision.
It has 1500W butterfly element which is recessed across the base to form heat zone over the whole surface. It makes great conditions for stir-frying and quick searing.
Key features
Heavy glass lid with stainless steel rim and steam vent
Removable and dishwasher safe quick-release base
14 heat settings and butterfly element with high sear option
4-Layer Quantanium non-stick surface
8. Aroma Housewares AEW-305 Electric Wok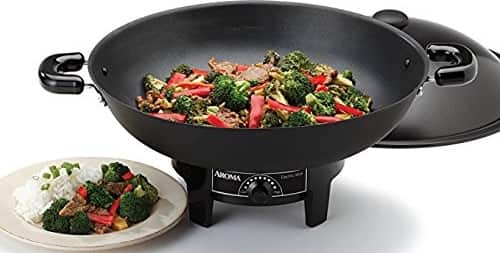 Aroma Housewares AEW-305 electric wok heats up faster and retains high temperature for best results. It is easy to use, compact, lightweight and easy to store. It has complete range of temperature controls so it can be very versatile to use. It heats up oil at rapid speed. Choose high temperature range for stir-fries or low to serve up.
It packs enough space with 7-quart capacity to serve ingredients for up to 5 people or more. It holds dishes with great chunks. It has vast cooking surface and large sides to whip up one-pot or family sized meals.
Key features
Good for stir-frying, steaming and braising
Easy to store and use
7-quart capacity
Large non-stick high dome lid
Cool touch base and handles
Precise temperature control
9. VonShef 7.4 Qt. Electric Wok with Lid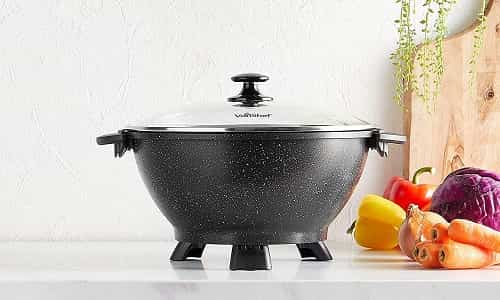 VonShef presents electric aluminum wok for your kitchen to fry, sear, and sizzle your way to a vast range of finger-licking Asian cuisines. Different flavors need different temperatures. This electric wok comes with a rotary dial for precise temperature settings for complete control on your cooking.
Key features
4 Qt. capacity – Ample space to cook up
14" non-stick wok surface
Cool touch handles
10. Liven Electric Aluminum Non-Stick Skillet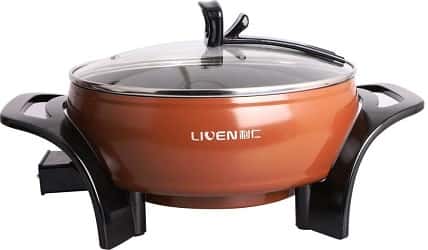 This pot is large enough to cook food for 2 to 4 persons in your family. Push the power button to start and push fire power button to choose heat level – small, middle, big. You can easily operate it.
Key features
Serves up to 2-4 persons
1500W skillet to serve multiple functions
Cast aluminum body
Conclusion
Are you planning for lawn picnic, beach party or just a balcony dinner, you definitely need the best electric wok. Electric woks are great aids to your kitchen.
Some of the best features of electric woks are non-stick coating, transfer ability, and maintenance of flavors and taste while still locking all nutrients. The electric woks are very versatile and dishwasher safe, so you can sauté, deep fry, and stir fry in the pot.