Cooking is like a passion for many of us and an electric griddle can make our lives easier. It is the best tool to prepare fries, breakfast, cookies, sandwiches, French toasts, bacon, hash browns, hot dogs, burger, eggs and other types of meals. This kitchen appliance has been use widely as it is easy to clean up and cook.
It is easy to store on the countertop and start cooking delicious meals that you like. It is designed for even heat distribution and it has non-stick cooking surface. It also has grill inserts to be used to cook meat.
You can buy a griddle that can suit your needs by considering factors like heat control, size, cost, grill inserts, thermostat and tilt capability. To provide clear insight about good appliance, here are some of the best electric griddles for you.
Best Electric Griddle Reviews For 2018
1. Presto 07061 22" Electric Griddle with Removable Handles

This extra-large electric griddle from Presto cooks delicious food for full family and has removable handles for easy storage. Open latch clips and release handles from its base. The base stores well in most 18" cabinets when handles are removed.
It has textured and premium cooking surface offers improved non-stick performance for non-stick cooking and easy cleaning. The heat control 'Control Master' technology maintains the desired temperature automatically. It has heavy cast aluminum base which is almost warp resistant. It also has easy to clean slide-out drip tray.
Key features
Extra wide cooking surface
Cast aluminum base
Slide-out drip tray
Removable handles for easy storage
2. BLACK+DECKER GD2051B Family Sized Electric Griddle with Drip Tray and Warming Tray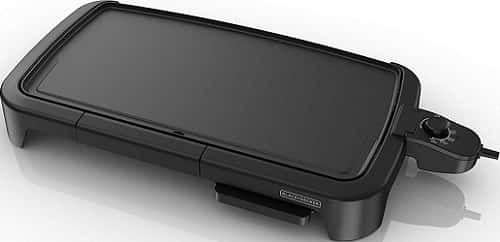 This family-sized electric griddle from BLACK+DECKER combines even and quick heating with variable temperature control settings. Create your breakfast goodies from eggs and bacons to hash browns and pancakes. It features updated griddle with in-built warming tray to store cooked foods when you finish the meal. Everything comes out at the right temperature with ease. You can also clean it easily with non-stick cooking surface and drip tray.
Key features
Extra large cooking surface
Click and lock thermostat with variable temperature control
In-built warming tray easy to slide out
Easy to remove drip tray
3. Zojirushi EA-DCC10 Gourmet Sizzler Electric Griddle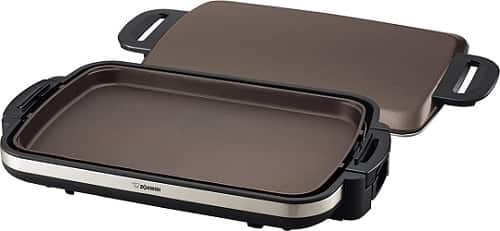 This extra large gourmet sizzler electric griddle from Zojirushi has wide cooking surface convenient for cooking lunch, breakfast or dinner. It has ceramic cooking surface with fully immersible body guard, non-stick coating and cooking plate so it is very easy to clean up.
Zojirushi is a devoted brand to offer next-gen products which combines affluence, ease, and style in its main business areas – food and beverage preservation, cooking appliances, and amenities for both industrial settings and home.
Key features
Variable heat settings from 176F to 425F
Extra large cooking surface
Easy to clean and durable ceramic surface with titanium non-stick coating
Fully immersible cooking plate and body guard
4. Presto 07211 Liddle Griddle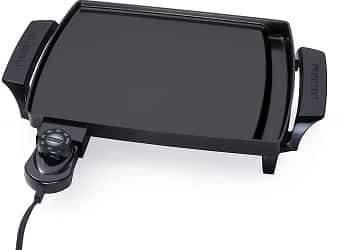 Best suited for one or two people, this compact and light electric griddle from Presto cooks up to two steaks or four fried eggs. This griddle is coated with durable, slightly textured non-stick finish which needs very little oil and fat and it produces healthy food.
To cook fattier meals like bacon, it has an in-built channel with one end to catch drippings. When the heat control is removed from the griddle, the unit is submersible into soapy and warm water. It can easily be plugged into 120-volt outlet and maintains temperatures from keep-warm to 400F. It resists warping and provides even heat distribution.
Key features
Compact electric griddle with non-stick surface
Made of cast aluminum resists warping and provides even heat distribution
Maintains temperatures from warm to 400F automatically
In-built channel effectively catches drippings
Built as per North American Electrical standards
5. Broil King PCG 10 Professional Portable Nonstick Griddle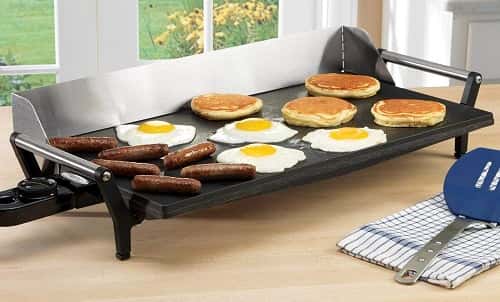 Broil King PCG 10 Professional portable non-stick griddle is the whole-new and one of its kind eco-friendly nonstick griddle with non-stick coating. It has removable backsplash made of stainless steel and rear legs make it easy to run off any grease. It has cool touch handles made of stainless steel and provides even heat distribution.
Key features
Immersible base with removable grease tray
New eco-friendly non-stick coating
Stainless steel removable backsplash
6. Secura GR1503XL Electric Reversible Griddle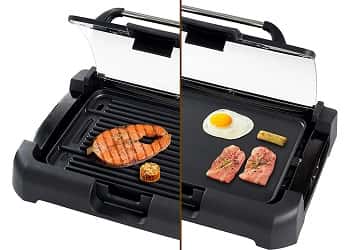 This electric 2-in-1 grill and griddle combination from Secura is one of the best countertop appliances to add to your kitchen. It is a very versatile tool to be used indoor to make healthy breakfast of eggs and bacon with pancakes or to use outdoors to grill nice burgers.
It has cooking surface spread over 180 sq. inches on non-stick reversible cooking plate – one side serves as a grill and other as griddle. It has splatter protection and heat retention with removable glass lid during the cooking process to view the process of making meals.
The cooking plates also feature heating element between the griddle plate and grill plate for even heat distribution over the whole cooking surface. It has cool-touch handles and housing, removable and adjustable thermostat control and removable grease drip tray.
Key features
Reversible and nonstick cooking plate
Serves one side as grill other side as griddle
Prevents splatter with removable glass lid
Cool touch housing and handles
7. Hamilton Beach (38546) 3 in 1 Electric Smokeless Indoor Grill & Griddle Combo with Removable Plates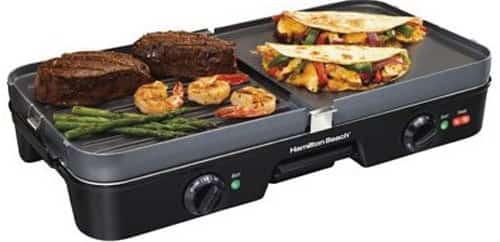 Enjoy the restaurant worthy meals at your home with this 3-in-one electric smokeless griddle and grill combo from Hamilton Beach. It really serves as indoor grill, as a grill and griddle and as a griddle.
It is very beautifully adaptable appliance with reversible, nonstick and removable cooking plates, which are simple to snap in and off the place and make around 180 sq. inches of cooking surface. It has two cooking areas with easy to adjust heat controls to prepare the complete meal at once. It has central grease tray and channel to get rid of extra fat and prevent mess.
Key features
3-in-1 combo of grill, griddle, and grill and griddle
2 removable, reversible non-stick plates
2 cooking areas with adjustable heat
PFOA-free cooking plates
Center grease channel with detachable tray
8. Oster Titanium Infused DuraCeramic Griddle with Warming Tray

Make delicious and healthy, family sized meals at your home with ease. Oster Titanium Infused DuraCeramic Griddle with Warming Tray features titanium-infused and innovative DuraCeramic coating which lasts up to 8x longer and cooks around 30% faster as compared to non-stick surfaces to save enough energy and time.
It is known to have PFOA and PTFE free safe and natural, scratch-resistant ceramic coating so you can easily make eggs, pancakes, and other goodies without any stress. It has large cooking surface to prepare meals conveniently for the whole family and it includes warming tray to keep food at the right serving temperature.
Key features
PFOA and PTFE free ceramic coating
Scratch resistant
4 times more durable coating which won't peel or flake
Adjustable/removable temperature control
9. Cuisinart GR-4N 5-in-1 Griddler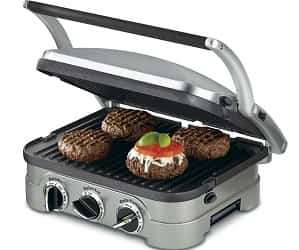 Cuisinart GR-4N 5-in-1 Griddler is both small in size but huge in features. It has 5-in-1 functionality as it serves as a Panini press, contact grill, full grill, half grill/half griddle, and full griddle. It is made of brushed stainless steel which looks modern and sleek with your kitchen décor.
It has hinged floating cover and wide Panini-style handle which adjusts well to different thicknesses of food. There is a function selector and two temperature controls on the base which are marked clearly and come with indicator lights for accuracy. Simply open the cover and you can personalize the whole cooking surface with reversible and removable non-stick grill.
Key features
Handle anything from pancake to sausage in 5-in-1 griddle
Easy to cleanup and use
Selector knob to choose your settings
5 cooking options to create delicious meals
10. Tilt 'n' Drain 23" Big Griddle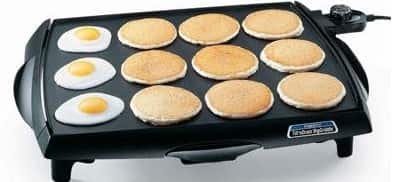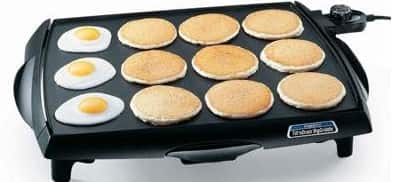 Tilt 'n' Drain Big Electric Griddle offers efficient and easy square shape which holds more eggs, pancakes and sandwiches as compared to most traditional rectangular griddles. The grilling surface is surrounded on both sides on the front with cool touch base. It has ample cooking area and it can cook around 50% more than various big griddles.
Key features
Easy to slide out drip tray
Non-stick cooking
Easy to cleanup
In-built backstop ledge for easy food handling
Summary
You don't need any kind of expensive appliance or wear on top of your head to make delicious breakfast for your loved ones. You just need fun company, delicious recipes and the best suited electric griddle.
With this guide, we hope you have liked the information regarding our best choices and you can start shopping for your own griddle. There are different styles and brands to look for.