Mandolines vs. Knives: Differences and why Mandolines are Better
Here's a well-guarded secret among professional chefs – we actually use mandolines more than kitchen knives. In a professional kitchen, julienning is an important cutting maneuver to prepare strips for stir-frying as well as garnishing. With the volume any competent restaurant might be receiving, simply cutting away with a knife will never fulfill your orders. A mandoline will cut more faster and precise than a knife will ever do, and is perfect for a commercial setting.
Our all-time favourite Mandoline
In the Smith family, we swear by a specially curated set of kitchen tools, and we take pride by our selections. The Mueller Austria Multi Blade Adjustable Mandoline Cheese/Vegetable Slicer is a fine example of this – we have owned multiple Mueller slicers over the years, and we have previously covered our selection criteria and actual real world use in that article.
Sale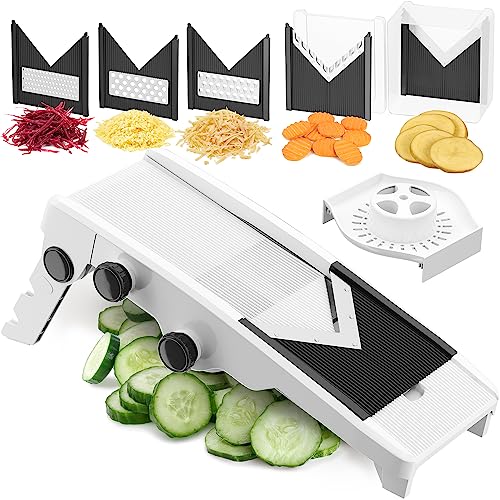 Mueller V-Pro 5-Blade Mandoline Slicer for Kitchen, Adjustable with Foldable Stand, Fruit, Vegetable Chopper, Cheese Grater, Fast Meal Prep, Dishwasher Safe, White
Adjustable Mandoline Slicer – Cuts evenly every time! Much easier than using a knife as a vegetable chopper. Knob dials will adjust thickness (1-9 mm) or julienne size (6 mm to 9 mm). Slide fruits or vegetables along the blades for fast meal prep.
Includes 5× Blades – Changing blades is easy. Replace bulky food processors with our slicer. Blades evenly cut onions, cucumbers, sweet potatoes, apples, and more. Use as a cheese slicer, grater and as a julienne shredder for lettuce or carrots.
Safety Food Pusher – Prepare your food, then use the food pusher to move it along the slideway over the blades. Hold the handle to help secure it. Perfect for home & kitchen needs.
Slice the Way You Want – (1) Unfold the legs then slice foods onto your cutting board or kitchen countertop or (2) fold the legs and slice directly onto your plate or bowl. Simple to Clean – It's top-rack dishwasher safe.
Superior Quality With Mueller – We are here to offer you only the best quality products designed to make your life easier. If you need help, please feel free to contact us. Our professional customer support is always here for you.
A mandoline or vegetable shredder is considered to be an essential part of anyone's kitchen equipment to prepare a meal. If you're looking to make restaurant-grade salads with the perfectly cut onion rings and nicely cubed carrots, a mandolin would be the perfect tool for you. It can be made use of as well as adjusted in different ways. You can fast process large and small amounts of fruits and vegetables regularly. The sharp blades offer light, as well as quick cutting.
Why should you prefer mandolines over knives?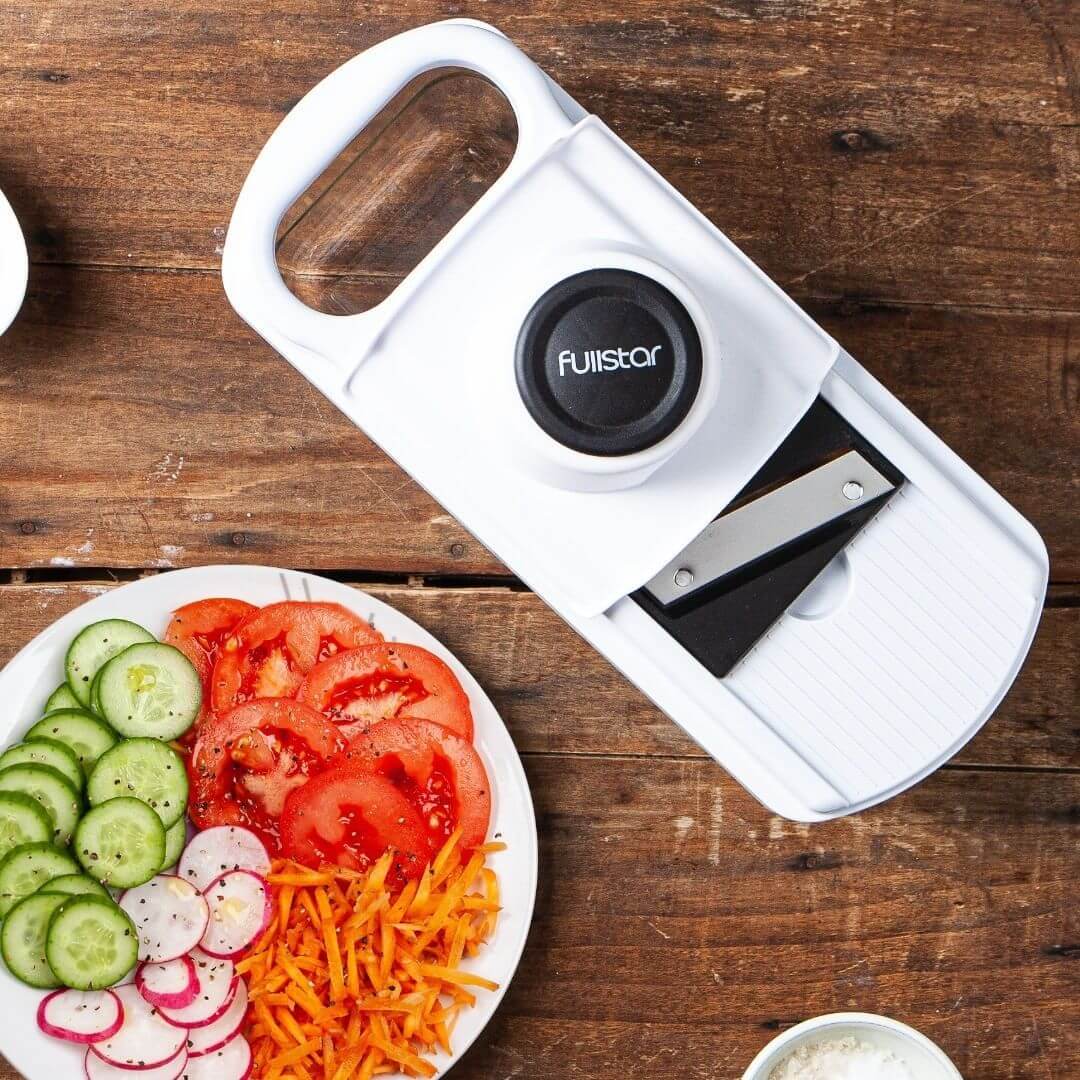 The main benefit of a mandoline is that it lets you create very thin and consistent slices. By using a knife, you will be moving the blade through your food, but if you use a mandoline, the process will get reversed; you will be moving your food across its blade. Each of the slices will be entirely of the same size. You will be able to adjust the setting of the blade and also control the cut's size, taking it down to make thin slices. 
Just think of preparing scalloped potatoes. Using a mandoline, you will be able to slice vegetables thinly, usually as you would like. Each slice will have the same thickness as your last cut potato slice. But if you use a knife, you need to hard press for getting such perfect results unless you are an expert. Most of the mandolines include various cutters to help you create ripple cuts, ribbons, and so on. 
Usually, the traditional one is made of food grade nickel-plated stainless steel and has blades of fine carbon steel. If you adjust the cut's depth with levers, you will get the perfect thickness that you want. It has adjustable legs at one end, and thus it can stand up, creating a triangle by placing the slicing area at one angle. Once you are done, collapse it back down to a smaller package to easily store it away.
Some models available appear similar to a cross among a conventional flat grater as well as an antique washboard. You need to hold it with your left hand and then run your food across its blade with the right hand or vice-versa. Such models include a stainless blade covered in some plastic or wood casing. 
Why are mandolines better than knives?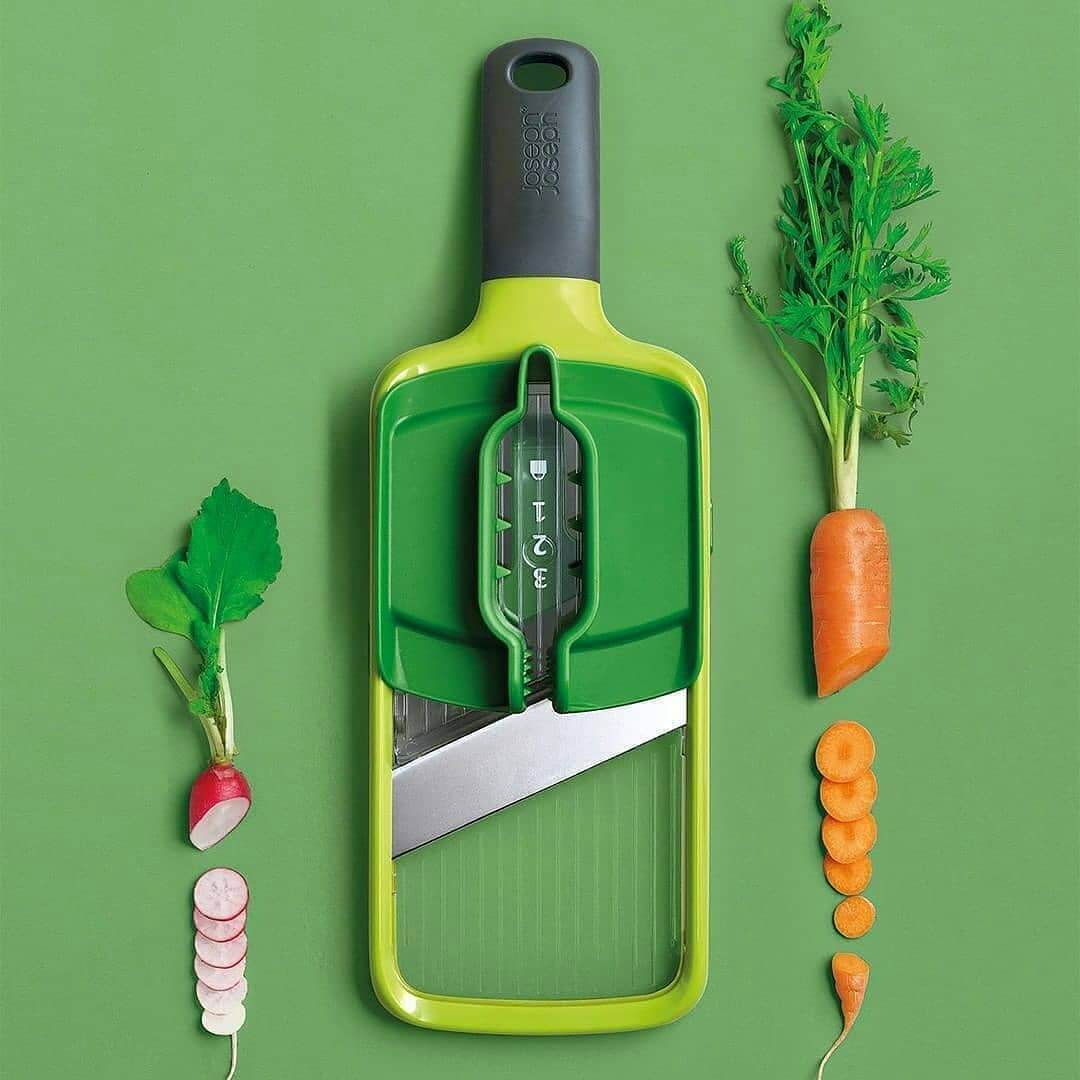 Convenience to use: One of the significant reasons that various people make up their mind to use a mandoline over knives is because it is effortless to use it to cut vegetables, fruits as well as other foods. Instead of balancing a piece of fruit, vegetable, or food on any cutting board as well as trying to create uniform cuts of similar size to make it look good, a mandoline will make a quick work out of it. Just place the food that you want to cut below the safety cover used to hold the food and begin to slice. You can adjust the blade spacing for different thickness of cuts. Some mandoline even have exchangeable blades to make fancier cuts like waffle and crinkle cuts. 
Excellent presentation: Are you in search for quality food presentation like that of a restaurant without any difficulty? A mandoline will help you to achieve that easily. It will make salads appear like work of art by making the vegetable slices thin and even. Moreover, cooked meals will also look exactly as pleasing when you slice the vegetables uniformly by making use of a mandoline. This has an added benefit of making sure that the meals are cooked evenly. 
Versatility: They are available in different styles and can help you make various cuts. If you wish to buy a cheap model which makes it convenient to slice vegetables fast, select one that will do only that. If you love cooking and want to create some fancier cuts or bring a change in your regular cuts, then some models will offer many blades and attachments for slicing, dicing, grating, shaving, and making julienne cut and so on. Its versatility is that you can select just the type that will suit your needs best to help you in getting what you want. You can also find one if you wish to elaborate as well as high end.
Sharp blades forever: One of the benefits of using it over a knife is that its leaves will stay sharper for a longer time. The primary reason that it happens is that the blade on any mandoline slices through a piece of fruit, vegetable, or food instead of slicing down and hitting a solid object (usually a chopping board) at its end to stop its motion. As it does not run any object that its blade is unable to cut through, they do not become dull quickly and holds its sharpness much longer than any kitchen knife. You may think that mandolines are dangerous as they have sharp blades, and it is true, but having sharp blades is vital for getting a perfect cut. Most of them have safety holders for keeping hands along with fingers away from the blade so that an individual remains safe while using it. If appropriately used, mandolines are much safer to make use of than any sharp knife as there is less chance of any accidental cut to your body. 
A vast range of price: If you think you are unable to afford another kitchen tool, give a second thought. Mandolines are available in an extensive range of styles, as well as price. Thus you can buy one to satisfy your requirements as well as budget. Many mandolines are cheaper than a knife and are very easy to use too. 
Final words
Thus, if you are trying to decide if you should buy a mandoline or a knife, you must consider a few benefits of owning a mandoline, one of the most versatile kitchen tools. By using it with precision, you will become a professional chef very fast.
Last update on 2023-09-23 / Affiliate links / Images from Amazon Product Advertising API