Top 10 Best Cutting Boards for Kitchen 2020 Reviews & Buying Guide
Whether you prepare meals on regular basis or just on weekends, you need to invest on a reliable cutting board to meet your food prep needs. You may not have to invest on the biggest or most expensive cutting board to do the job. But you should consider the pros and cons of different types of boards.
You also have to consider some important things to choose the best cutting board
Material – Cutting boards are usually made of bamboo, wood, ceramic, plastic, marble or glass. It is important to ensure that the board will not affect the blade sharpness. Bamboo and wood are considered to be very user-friendly to protect the sharpness of knife.
Size – You can go with a large cutting board which can reduce wastage and spillage. However, it may cover plenty of space. Small board takes less space but it may not be suited well for large amount of food. You also have to consider the right size according to the space and use available.
Hygiene – Sanitation is very important when it comes to choose cutting board. Some prefer wood because bacteria don't last long in the surface But wood is prone to moisture and water seeping and it also develops cracks. Synthetic boards which are made of plastic resist bacteria on non-porous surface. But material may lose its quality over time.
Maintenance – Choose a quality cutting board which is easy to clean and maintain. It should be made of sanitary materials and it remains safe when it is washed in dishwasher or by hand.
Protect the knife's edge – The best cutting board provides not just the right surface but also the sharp edge of the knife. Composite, wood and some plastics score well in the area in comparison to marble or glass.
Here are the detailed reviews of some of our top picks –
Best Buy Cutting Board Reviews 2020
1. OXO Good Grips Utility Cutting Board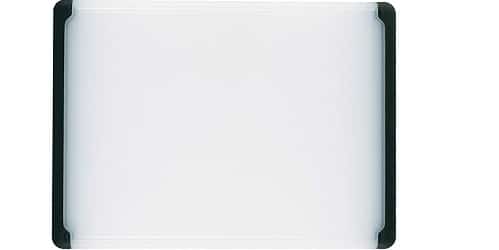 This utility cutting board from OXO Good Grips is best choice for both professional and personal use. It is made of thick polypropylene and both sides are non-porous, durable and odor resistant. The material provides protection against deep scratches and it won't dull sharp knives.
It keeps liquids contained in a juice groove located around the perimeter. Flip the cutting board and use another surface to prevent cross contamination. It has non-slip, soft handles for easy transportation and keeps cutting board from sliding on wet counters. It is ideal for large and medium cutting jobs and it is dishwasher safe on top rack.
Key features
Sturdy construction
Cutting board with soft and tapered grip
Capable to handle a lot of medium to heavy slicing, chopping and cutting jobs
2. Gorilla Grip Original Reversible Cutting Board
Are you tired of slippery cheese server and cutting board on the counter? To save your valuable time and your family's time, Gorilla Grip Original Reversible Cutting board stays secure on the counter when cutting. Others may look to be similar, but this cutting board is both durable and strong. This cutting board is 1/3" thick and is made of strong TPR border to stay in place on dry and clean surfaces. Unlike other bamboo and wood boards, this cutting board is dishwasher safe. It is made of best quality materials.
Key features
100% dishwasher safe
Made of best quality materials
Non-porous which won't peel, crack or splinter
3. Farberware Poly Cutting Board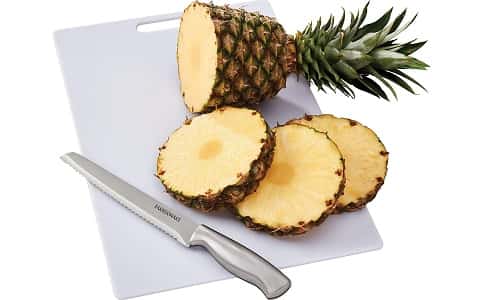 You can slice and dice vegetables, fruits and meats like a pro on this Farberware Poly Cutting Board. It has stick-resistant coating for smooth, easy and clean cuts. This cutting board is made of polypropylene and is BPA free. It is gentle on your knives and it is non-porous, non-absorbent and it won't collect stains, odors or harmful bacteria.
It is also considered best for slicing, cutting, and chopping poultry, meats, fish and veggies. It measures 12-inch by 18-inch and is reversible for double cutting surface and it has handhold for superior stability and control. It is also dishwasher safe and is easy to clean up and maintain.
Key features
Made of BPA-free polypropylene
Ideal for slicing, cutting and dicing jobs
Reversible to double the cooking surface
4. Thirteen Chefs Commercial Plastic Cutting Board
Thirteen Chefs offers heavy-duty, commercial grade cutting board designed for daily use in most demanding jobs. It is best for cutting, chopping, slicing, dicing, carving and other jobs without having to worry about wear and tear. It is good for both home cooks and professionals with its high-quality and durable polypropylene design which is gentle on knives and it really makes cleanup and prep work easier.
Key features
Anti-slip texture
Superior quality and durable surface
Rounded edges and corners
5. Utopia Kitchen Extra Large Bamboo Cutting Board
This extra large bamboo cutting board is durable, safe and quality board from Utopia Kitchen which won't dull your knives. This is your ticket to cook with ease. This large and thick Bamboo cutting board is best choice for food prep in the commercial restaurant kitchen or at home. it is used to cut fruits, legumes, meat, baked goodies and bread without unnecessary sawing and hacking.
This bamboo cutting board is both durable and easy to use and it has less room for bacteria to be trapped unlike wooden cutting board. It is an ideal multipurpose kitchen tool for any pro chef or home cook.
Key features
Made of organic Moso Bamboo which is durable
Very durable and light as it is made of bamboo
Surface finished with sunflower oil, instead of harmful color painting
16% harder than maple
Easy to maintain
6. Seville Classics Easy-to-Clean Bamboo Cutting Board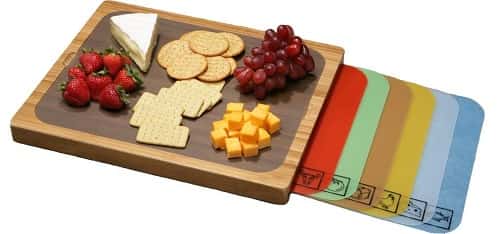 Nurture the chef within you by investing in Seville Classics Bamboo cutting board which comes with seven flexible color-coded cutting mats and food icons. Bamboo is hard and renewable material which is more sustainable, stronger and easier on your knives than hardwood chopping blocks and cutting boards.
This board has rounded corners and ventilated compartment for mats of cutting board with a different rectangular design. The grooves are easy to grab even when they are put on flat surface. These colorful mats are designed to fit well on top surface of the board. You can use them as tray to move food, bend them in a funnel to plate chopped ingredients or as cutting area. It is also easy to clean. Wash with mild detergent and warm water and let it air dry.
Key features
Four non-slip feet made of silicone to keep food from sliding
It has seven color-coded cutting board mats to fit board top
Made of 100% polypropylene
Dishwasher safe
7. Vettore Non Slip Poly Cutting Board
All of the cutting boards from Bettore are made of non-porous, high quality polyethylene which can resist deep cuts but it won't dull your knives. All of these boards are stain resistant, dishwasher safe, and it won't degrade or warp over time. It is the best gift for graduation, birthday, wedding anniversary or other events.
Key features
Non-slip feet made of rubber
Equipped with juice groove on one side to avoid liquids from spilling
Complies with FDA norms.
8. Resort Chef Cutting Boards for Kitchen
Resort Chef cutting board comes with food icons for poultry, meat, vegetables and fish to help avoid food poisoning and cross contamination. Each cutting board is color-coded in pleasing bright colors. It is made of in-built Microban antimicrobial protection which resists the growth of odor-causing and stain causing bacteria, mildew and mold.
Each cutting board stacks well and don't take much space. It is also easier to store in cabinets and drawers. These cutting boards are made of FDA approved and BPA free materials. These boards are certified to offer safest surface to you and your family.
Key features
FDA approved, BPA free materials and LFGB Compliant
Made of recyclable plastic lasts longer than wood and bamboo boards
Dishwasher safe
Used by professional chefs
9. Chef Grids Durable Plastic Cutting Board Set
Made of best plastic material, Chef Grids Cutting Boards are built to last lifetime. This set comes with full-size, stainless steel knife with sheath. This set is what you need in your restaurant or kitchen. It is best to cut red meat, fruits and vegetables and its non-slip grip prevents nasty and painful accidents.
Key features
Ergonomic design
Knife friendly
Made of BPA-free plastic
Easy to clean and use
10. Bellissima Kitchen 3-Piece Plastic Cutting Board Set
Each cutting board in this set is 3/8 inch thick so they are easy to store and maneuver. It has deep juice groove on all of the three boards to prevent spillage and retain juices. It has drip lip to catch all the juices so it won't get the counter dirty. It has thermal plastic rubber edges for stability.
Key features
Textured surface for easy grip on food
Deep juice groove
Dishwasher safe
Soft tapered handle
Thus with the help of the cutting boards it is very easy to carry out any type of kitchen works. Most of the cutting boards are availed by the young generation people as they are very easy to use. Most of the people has started relying on these types of products.
Different Types of Cutting Boards You Should Know

The emergence of various types of cutting boards has made work much easier and swifter. They are convenient for the kitchens. There are different categories of cutting boards available in the market. Let us try to find out some of them.
It is one of the most convenient type of cutting board that is available in the market. There are ample advantages of using these types of cutting boards. Firstly it is very easy to clean the glass and the glass is made of tempered glass.
Most of these types of plastic cutting boards are made of high-quality plastics that can run for a long time. It is said that plastic boards are always safe for cutting meat and they are very easy to clean. It can be cleaned very easily baking soda and hot water.
Wood cutting boards are very convenient to use and they also come with a stylish look. Most of these types of cutting board are made of maple and teak wood. These types of cutting boards are said to be much safer and easier to use. It does not require enough maintenance.
It is one of the environmentally friendly devices that can be used by the people. They are also found in an affordable rate. They are very stylish in look. Bamboo boards are said for cutting meats and other types of materials. It can be practically used for actual kitchen work.
Wood Vs Plastic Cutting Boards: Which is Better?
Safety
Cutting boards made from plastic are not that safer as compared to wood. As per the studies, wood is found to be a lothygienic in the longer run. This is due to the reason, wood has got a porous surface. Such a feature can't be seen in case of a plastic cutting board.
Bacterial susceptibility and durability
Plastic boards are found to be more repellent to bacteria.Such an assumption doesn't consider that a cutting board made from plastic can easily get the scar from day to day use. Wooden cutting boards are a lot more durable and less susceptible to wear and tear.
As per the study conducted on wooden and plastic cutting board, these boards have a lesser number of salmonella bacteria as compared to plastic cutting boards. On a wood-based cutting board, it is found that the bacteria travel down under the board surface where these bacteria are unable to pass and so they eventually die off.
Easy to disinfect
On a plastic cutting board, bacteria get caught up in grooves of the knives. This is the place that is nearly impossible to clean whether you use cleaning by a dishwasher or by hand. So,the good side of a plastic cutting board is that they are quite easy to disinfect, but the drawback is that any worn plastic board can easily hold onto bacteria.
As per the official opinion of the FDA, cutting boards made up of wood, as well as plastic, are completely safe until they are properly cleaned and replaced frequently. When boards get excessively damaged or develop difficult to clean knives grooves, then it indicates that you must get a new one.
If wooden as well as plastic cutting boards are susceptible to bacteria when not taken proper care and regularly replaced, then the thing that would differentiate them is its longevity and preference.
Longevity
Not just the wooden board last for a longer time but also help in keeping the knives in the best condition for a longer time. This is because boards made using hardwood would not make the blades dull as fast as it happens in the case of a plastic board.
We would like to go for a cutting board made from hardwood like beech wood or maple. This is because it doesn't get any scar as seen in the case of plastic board. Also, you do not need to get it replaced often if you perform the best maintenance tasks.
Cutting Board Cleaning & Caring Instructions
Cleaning and caring the cutting board is very important as long as you need the cutting board to be long lasting and healthy.
If you are using wooden cutting board always, make sure to wipe clean the cutting board after each use and then with a wet cloth wipe the board until the deposits come off. Once you are done doing this, to keep the wood soft and efficient rub the board with oil, it can be mineral oil or bee wax.
On the other hand, if you are using a plastic or any other material cutting board, always soak the cutting board in warm water and then wipe clean the cutting board. We also recommend that you wash the cutting board in Luke warm soapy water. Make sure you wipe clean and dry the cutting board before storing it somewhere.
How To Use Cutting Boards Properly?
Cutting boards are effective kitchen tools and used to cut different kinds of fruits and vegetables in an effective manner. For effective use, you need to lay your cutting board on a stable and flat surface such as on the counter. After that, you need to place the food on the top of the board to cut it in a precise and right manner.
So What you should do
You need to take a sharp and quality knife and then chop the food by using the abbreviate motions to get perfect and finely chopped food. You need to keep the tip of the knife on or above the board all time because it helps you to keep safe from any damage of the knife and the cutting board. If the cutting board is made of stone then you need to be careful while cutting because this material can chip the knife and it can be dangerous for you.
You need to wash your cutting board immediately after every use as it helps to remove all residue and left particles from the board. You can make a solution of dish soap and lukewarm water and clean your cutting board by using a soft rag and scrub the board for a few seconds. Allow the board to get dry and you need to take care that the wooden cutting boards can mold easily by keeping them in water for a long time.
You need to disinfect the cutting board at least once in a week by using vinegar and bleach. To disinfect the cutting board, you can make a solution of one teaspoon of bleach and one quart of water, as well as five part of water with one part of vinegar, can be the perfect solution that you can apply on all over the cutting board and allow it to soak for few minutes. After that, you can rinse the board with warm water that helps to keep your cutting board clean and hygiene.
In addition to all these, seasoning your wooden cutting board is also a perfect way to keep it clean and keep it safe from absorbing liquids and odors. You can season your wooden board with mineral oil by soaking a soft cloth in the oil and rub it on the board gently until it would not become able to absorb more oil. After that, you can wipe the surface effectively with a clean cloth and then store your board for a long time.
Conclusion
All in all, you should go with the cutting board which looks elegant and is made of quality material. Choose the board which is knife friendly which won't affect knife's edge. Cutting boards are good for slicing, dicing, hopping and cutting fruits, vegetables, meats and other items. These boards can be made of wood, bamboo, plastic etc. These have non-slip edges to avoid slippage and the antimicrobial, non-porous and antibacterial surfaces can prevent microbes, germs and bacteria.