Glass Bakeware vs. Metal Bakeware: Which One To Buy?
Most of the people who loves cooking want to make everything perfect. For that, you need to get perfect kitchen equipment. If you are confused as to choose whether glass bakeware or metal bakeware then you can use the help of this article. After considering various things you can come to a decision to select the most suitable one for you. Every person is unique and so is their cooking style.
That is why you should buy bakeware which suits your cooking style most. You should always compare the various features and benefits of anything you are buying so that you can get an insight.
What are the benefits of using Glass Bakeware and Metal Bakeware?
If you want to get assured about your buying of any product then you need to check various things. First of all, you should always check what are the materials used in your bakeware. After that, you can look online for various types of benefits that you can get using bakeware.
You should always make sure to compare various advantage of both glass and metal bakeware. These are some of the advantages and disadvantages that you can find of glass and metal bakeware.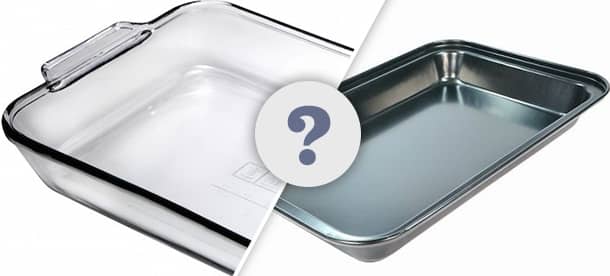 Glass Bakeware benefits
Advantages
Better heating for your food – When you use glass bakeware then you do not have to worry as to whether the food is properly heated or not. Glass bakeware is made of glass which takes time to heat which in turn provides even heating to the food?
Remains warm for a longer time – As you know glass take time to heat, it also remains hot for a long time which means that you do not have to reheat your food. That is why it can be your ideal choice if you like to eat your food hot.
Non-reactive to any food items – The best things about glass bakeware is that they do not reach with any items. This makes them convenient for cooking as you do not have to be cautious while cooking any food items.
Provides equal heating to your food – If you do not want to eat meat which is not cooked evenly then you should definitely use glass bakeware for cooking as they are one of the best option available for cooking.
Disadvantages
Could shatter under high-temperature – Glass bakeware risk of breaking under high temperature which can cause a lot of inconvenience while cooking. That is why you need to be careful while using them.
The glass is a poor conductor of heat – As everyone knows that glass is a poor conductor of heat which means it can take sometime to heat.
Can not be used on the stove – You cannot use glass bakeware on stoves after cooking it in the oven as it will break under flames.
Metal Bakeware benefits
Advantages
Can be used in high-temperature – If you are using metal bakeware then you do not have to worry about the temperature while cooking. As metals can withstand high-temperatures without any problems.
Helps in providing crunchiness in your cooking – Do you want to cook food items like cookies, biscuits or roasted meats? If yes, then metal bakeware should be your ideal choice which can provide you a better way of cooking.
Provide instant heat to your food – Metal bakeware does not take too much time to heat up which means that you can easily cook any type of food items. This is why most people prefer using metal bakeware which can help you with faster cooking.
Safer to use in high temperatures – Metal bakeware does not risk breaking under high temperature which means you can cook without any problems.
Disadvantages
Could react with acidic food – Metal bakeware can risk of reacting with acidic acid which can leave a bad taste in your food.
Sometimes cause uneven baking – As metal bakewares provide instant heat it can cause uneven baking which risk of raw food.
Cannot keep warm for a long time – You cannot keep your food warm in metal bakeware for a long
Which one you should choose for your cooking?
If you want to cook crispy and crunchy food like cookies, biscuits, roasted meat then metal bakeware is ideal for you. If you want consistent cooking like cooking meat or any fruits then you should definitely try glass bakeware. The choice is yours to choose which one you need for your cooking. You can order bakeware for yourself by searching on online stores in order to get the best cooking.
In order to make a choice as to choose which bakeware is best for you cooking you should check bakeware set reviews online.
You can read the reviews of the people who have used the product and their experience of using the product. That is why it is very important for you to make sure there are no issues with the bakeware you are buying.