8 Important Differences in Cookware Material And Coating – Cooking Essentials You Wish You've Known Earlier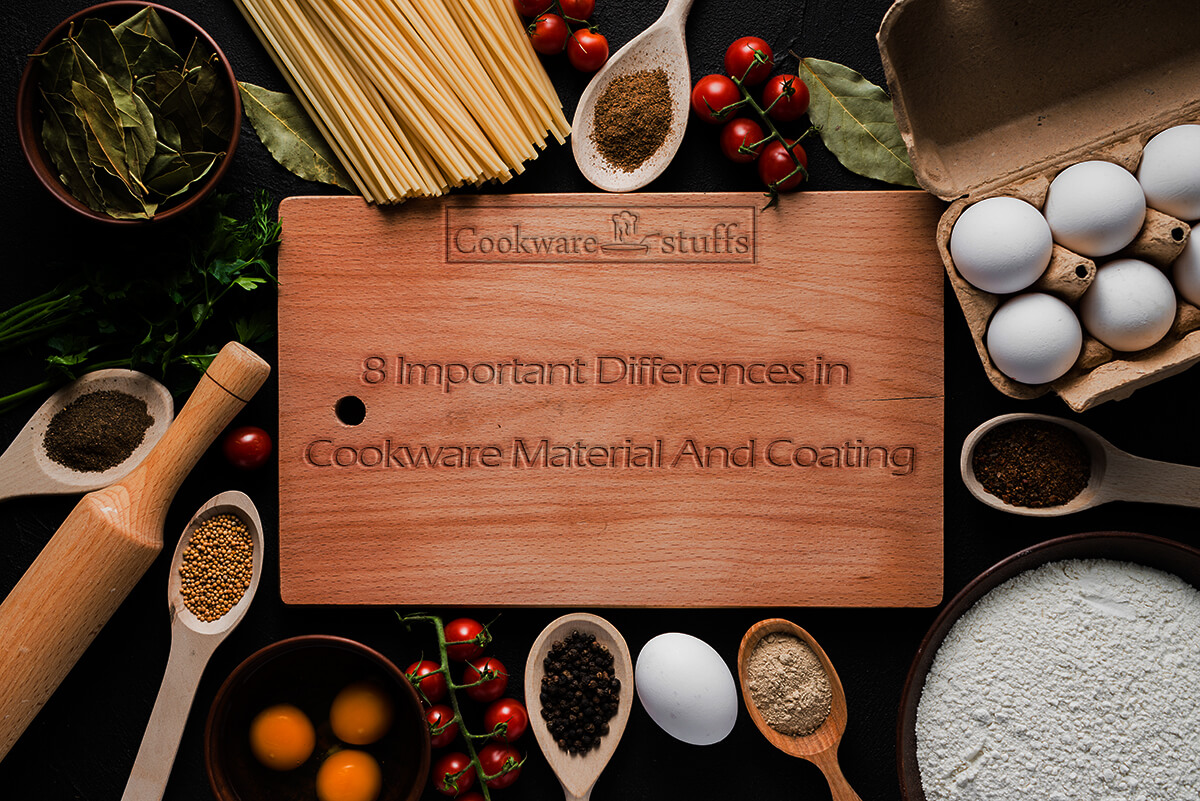 You might put yourself and your loved ones in danger if you don't bother to know about the materials used in making the cookware that you use. Cookware material is certainly a must-know information for every home cook chef as you will know how to choose the correct cookware for different cooking method by looking into their properties and then comparing their pros and cons.
Most importantly, you will know how to take good care of your cookware so that it will not release toxic chemical into your food. Generally, cookware materials include stainless steel, carbon steel, non-stick, copper, cast iron, enameled cast iron, ceramic and glass.
Here's an overview of the pros and cons for every cookware material.
Stainless Steel Cookware Material Pros and Cons
Non-reactive
Durable
Dishwasher safe
Poor heat transfer & distribution
Heavy
Carbon Steel Cookware Pros and Cons
Cook food evenly
Great for searing
Lightweight
Non-stick
Require seasoning to maintain and cleaning
Non dishwasher safe
Not suitable with cooking acidic food
Non-stick Cookware Pros and Cons
Easy to clean
Require less oil in cooking
Potential harmful chemical after the coating chips
Copper Cookware Pros and Cons
Food can be cooked evenly
Reactive with alkaline or acidic food
Require regular polishing and maintenance
Expensive
Cast Iron Cookware Pros and Cons
Durable
Inexpensive
Non-stick
Distribute heat evenly
Retain heat well
Great for long, low simmering and browning
Reactive to acidic food
Heavy
Takes a long time to heat up
Require maintenance
Enameled Cast Iron Cookware Pros and Cons
Functions similarly as cast iron, but easier to clean up
Better in cooking acidic food
Expensive
Heavy
Non-stick feature might not function as well as other material
Ceramic Cast Iron Cookware Pros and Cons
Non-stick and free of chemicals
Environmentally friendly
Non-stick feature might fade over time
Non-dishwasher safe
Glass Cookware Pros and Cons
Can monitor the cooking progress
Do not need to change dishes before serving
Might burn your food
Not-so-great heat distribution
After knowing about the properties of each cookware material, you will now learn about what is the best cookware surface for essential cooking methods like baking, cooking, frying on many more!
Best Cookware Coatings for Different Cooking Methods
As a home cook chef, I am sure that you have used a variety of cooking methods in preparing delicious meals for your loved ones. However, are you using the cookware with the correct material? Worry not; we are here to offer you important information on the best cookware surface for different cooking methods.
For baking cakes and pastries, aluminum is the best cookware surface as it is a great heat conductor and you can have even baking. Aluminum baking cookware is more durable and long-lasting. As casseroles dishes are gaining more popularity, glass baking cookware is a great choice too as it is non-reactive and it is also a good heat conductor. We can monitor the cooking progress too when we are using glass cookware. We have also shortlisted some recommended cookware for casseroles dishes here.
Looking into frying, we are certain to find you frying pans that are versatile, durable and good value for money. Non-stick frying pan is certainly one of our best pick as it is a good conductor of heat and it does not require a lot of oil in cooking. It is easier to clean too as food will not stick on the pan.
Other than frying pan, we also offer a list of the best non-stick cookware for your best cooking experience. We would recommend cast iron cookware too like cast iron skillet. Although it is heavier compared to other cookware materials, it is surely the right choice for frying as it distributes heat evenly and once it's hot, it will stay hot. With this, you can fry fish fillets and meats perfectly without worrying whether the meat is cooked properly or not.
If you enjoy sautéing, you should never miss out cookware that is made of carbon steel. Carbon steel wok, as we have shortlisted the best ones here, is great for sautéing. This is because it can transfer heat evenly. Carbon steel wok is great for stir frying vegetables and searing meat too. You will get meat with crispy skin with tenderness inside. There is also carbon steel pans, where you can cook beautifully browned onions easily with. Sautéing works best in ceramic cookware too.
Looking into the best ceramic cookware that we would strongly recommend you, you would realize why you would need ceramic cookware in your kitchen. As ceramic is naturally non-stick and non-reactive to any food, you can make sautéed cherry tomatoes perfectly with ceramic pans. Not only pans, ceramic cookware are suitable for oven baking dishes too, like the casseroles, pies and even the irresistible gratins.
If you are in favor of stove-top cooking, copper cookware, lining with materials such as stainless steel, would be your cup of tea. You can cook you food nicely as copper heats quickly and evenly and once it's removed from the stove, it cools down quickly too. You can braise your meat, steam your fish and even boil any ingredients in no time with the copper cookware. On top of this, we also offer some best cookware for glass top stoves that you wouldn't want to miss.
Thinking Time: Is Non-Stick Surfaces Good or Bad?
Cookware with non-stick surfaces are popular among kitchen users as it is easier to clean up and it does not need a lot of oil in cooking any ingredients. However, you might need to be worried when the non-stick coating in your cookware starts to chip. It is said that once the coating starts to chip, your food is exposed to toxic chemicals such as PFOA and PTFE. To avoid this from happening, you should use wooden or silicone spatulas when you are cooking.
Never use metal utensils as it might scratch and damage the coating. You should never preheat on empty non-stick pans and cook on high heat too. Buy more expensive pans with higher quality if you can afford it as sometimes quality comes with higher money value too.
A healthier and safer option for non-stick surfaces would be ceramic material. Ceramic surfaces are naturally non-toxic as it is PTFE and PFOA free. To ensure it can be used for a long run, you should avoid high heat cooking and you should clean all the cooking oil after use.
Tips To Take Care of Each Material Surface
It is equally important to know how to clean your cookware if you want to make sure you get your money's worth what you buy and use. Here's how you can take care of each material surface.
| | | | |
| --- | --- | --- | --- |
| Stainless Steel | Carbon Steel | Non-stick | Copper |
| Gently scrub with soap and water. | Gently wash with soap and water. Use a plastic scrub brush or sponge to scrub stuck-on spots. Dry completely, and re-season. | Wash with soap, water, and a soft sponge. Use plastic scrub brush to remove stuck-on spots. | Wash with soap and water, and scrub with a gentle plastic brush. |
| | | | |
| --- | --- | --- | --- |
| Cast Iron | Enameled Cast Iron | Ceramic | Glass |
| After cooling, clean gently with a bit of soap and water. After each use, re-season. | Soak the pot with some soap and water, and gently rub it away with a plastic scrub brush. | After cooling, soak with water and soap. Use a plastic scrub brush or a sponge to remove stuck-on spots. | Wash with cool water and plastic scrub brush or sponge. |
Here, we hope that your kitchen experience is constantly fantastic with the best cookware of the best materials. You can refer to other sources on cookware materials to get more information. You can always look through our review too to make your shopping experience easier. Remember, your choice determines what you eat and who you become.