10 Best Whisk For Baking and Cooking 2020 – Reviews & Buying Guide
If you are a kitchen utensil maniac like me, you should never miss whisks in your arsenal of cooking tools. A whisk is not only useful in the baking process; you can use it in different cooking situations. Cooking whisks come in different shapes and sizes and each type is designed to functions in different situations. With these whisks, you can make salad dressing, whipped cream and even pan sauce if you use the correct ones. You might even consider buying different types of whisks to ensure a convenient cooking experience.
Commonly, the types of whisks include the French whisk, the balloon whisk, the flat whisk and also the ball whisk. You might wonder, "Why do I need these whisks?". We are going to reveal it to you in the next section.
Top selling whisks
Why consider buying a whisk?
The reason is simple: your cooking and baking life is going to hassle-free than you can even imagine. If you do not own a whisk, you would probably struggle by using forks to whip or beat. Which type of whisk you need would surely depend on your cooking work.
One of my best-pick cooking whisks would be the French whisk. French whisk is the best in mixing oil and vinegar and creating emulsion, like making mayonnaise and salad dressing. It is suitable for cooking on stove too as it has a narrow base and it fits into every corner of the pot. This can prevent burning at the pot corners. To make a tastier salad dressing, you can try side-to-side whisking.
Another of my favorite would be the balloon whisk. Balloon whisk has a bulbous end, and it has lot of springs to it. With this, it creates a lot of movement and the movement creates air. This is super important when we are making whipped cream from liquid heavy cream and also meringue from egg whites. A special tip to make perfect whipped cream is to move up, down and over, like moving in small circles. You can also hold your bowl at an angle so that all the liquid are on the same side.
You can consider the flat whisk too if you are a fan of pan sauce. The flat whisk is a newer product in the market recently. It is commonly used in making gravies and pan sauces. You just need to apply pressure and flatten out to the whisk to scrape out the bits and combine the ingredients. A chef tip here, you can even use this flat whisk to fish out your poached egg from the poaching liquid.
Ball whisk, on the other hand, does not have any loop. It consists of several tines which are tipped with balls. This innovative design will ease your cooking experience as you can reach the corners of the straight-sided pans easily and most importantly, it is easier to clean by hand.
Here, we offered a review of different whisks to make an easier and more worthwhile buying experience.
Best Buy Whisk Review 2020
1. OXO Good Grips 11-Inch Better Silicone Balloon Whisk
Key features
Dimension: 11" x 3" x 1"
Weight: 0.225 lbs
Whisk wires coated with silicone
Provide users a firm and comfortable grip with its tear-drop shaped handle
Suitable for washing in a dishwasher
Whether you are whipping cream or beating some eggs, the OXO Good Grips 11-Inch Better Silicone Balloon Whisk is certainly the best silicone balloon whisk. This balloon whisk features polished silicone wires that are heat resistant. It can resist heat until 600 degree Fahrenheit. Besides strong heat resistance, the silicone wires would not discolour, wrap or melt too. You can avoid scratching any surface with the silicone wires when you are whisking.
This whisk also features teardrop-shaped handle which offers soft, comfy and non-slip grip. It will surely fit comfortably in the palm of your hand. The whisk will not slip even your hands are wet. In addition, it is safe for non-stick, ceramic and metal cookware. You will experience a fatigue-free mixing experience as it is ideal for whipping ingredients for maximum fluffiness and most importantly users have been giving positive review for its lightweight, good balance and also the soft handle.
2. Ouddy 3 Pack Stainless Steel Whisks 8″+10″+12″
Key features
Comes in a set of three- 8″+10″+12″ balloon whisks
Made from polished stainless steel
Serves a variety of function in cooking
Ergonomic and well-balanced handles
Designed with a hanging loop in the handle
Rust-resistant
Suitable for washing in a dishwasher
Having headache of deciding on which size to buy? Worry not, we are here to offer you the Ouddy 3 Pack Stainless Steel Whisks Set. It comes in a set of three that includes 12″, 10″ and 8″ whisks. These balloon whisks are strong and durable as it is made of high quality durable polished stainless steel. On top of this, it is ergonomically designed to offer you the excellent balance and control. You will feel a difference when you hold these whisks in the hand.
This product is considerately designed as these whisks have steel hanging loops. It allows easy storage as you can hang on any hook in your kitchen. These balloon whisks are easier to clean as it is dishwasher safe. Here's a tip to make these whisks long-lasting: hang the whisks vertically after cleaning to avoid water got in the handle and rust.
These whisks are must-have for home cooks and restaurant chefs as they are flexible. Our kitchen whisks utensil set will blend in well with everything you need to keep your chef at home happy. This whisk set is multifunctional. These balloon whisks can make our cooking much easier and enjoyable. You can use the largest whisk for battering big bowls of pancake. You can change to midsize whisk for beating eggs for your perfect scrambling eggs. Reserve the littlest whisk to blend your small batch of vinaigrette. The whisks feature multiple wires that can add volume and quickly smooth lumps from mixtures. This set is a best-pick assistant for whisking eggs, icing sugar mixture and melted chocolate fresh cream.
If you are not satisfied with the whisk set, worry not. This product comes with a satisfaction guarantee. Simply contact the manufacturer to return the stainless steel whisk set and you will get a full refund or replacement.
3. OXO Good Grips Better Flat Wire Whisk
Key features
10″ flat whisk including a 4.2″ handle
Best pick for making roux and even for deglazing a pan
Made of polished stainless steel
Ergonomic and well-balanced handles
Not suitable for non-stick cookware
Consists of lifetime limited warranty
Safe for washing in a dishwasher
We also offer the best flat wire whisk, the OXO Good Grips Better Flat Wire Whisk. It is our top pick for deglazing a pan or making roux. This 10″ whisk features four polished stainless steel wire loops in a flat design. It also features innovative handle shape and it offers soft and comfortable grip that absorbs pressure. The whisk would not slip from your hand even your hands are wet.
One of the prime features of this flat whisk is it conforms to the shape of the pan. So, it works best in scraping pan bottoms and making pan sauces. However, the whisk wires are not coated, we can't use it on a non-stick surface. Despite this shortcoming, most of the users have given high ratings for this product due to its comfortable handle and it can be used in shallow bowls and when deglazing pans. Some even use it to flip omelettes, prepare scrambled eggs and sautéing onions.
Being dishwasher safe, this flat whisk is easy to clean and it has a lifetime limited warranty from the manufacturer. The manufacturer also guarantees that the product is free from defect under normal household use.
4. Tovolo 6″ Mini Whisk
Key features
6 inch balloon-shaped whisk
Does not take up a large space for storage
Best pick for small tasks
Fits well in small containers
Made of good-quality stainless steel
Tovolo 6″ Mini Whisk is here to tell you never judge a whisk based on its size. This mini balloon shaped whisk is certainly the best mini whisk in the market. Having made of sturdy stainless steel, it is strong and durable. It also features thick round and easy to grip handles, so you can mix your ingredient sturdily. Children can enjoy mixing their scrambling eggs too with this mini whisk as it is easier to be handled.
As a petitie whisk, it is perfect for mixing in small containers, even in a mug. Users have given high rating as it is multifunctional. It is not only perfect for making roux, mixing dry ingredient with egg, making salad dressing and marinades; you can use it to mix your drinks. Some users find it useful to mix their matcha powder with this mini whisk as it fits into their mug. You can now enjoy your matcha tea and even your matcha almond milk.
As a considerate manufacturer, the individual wires are sealed into the handle to prevent rusting. So, it is safe for washing in a dishwasher and also cleaning by hand. On top of this, it features easy storage as fits nicely in a drawer organizer.
5. Muclipkot Kitchen Wire Whisk – 12 inch Balloon Egg Beater Stainless Steel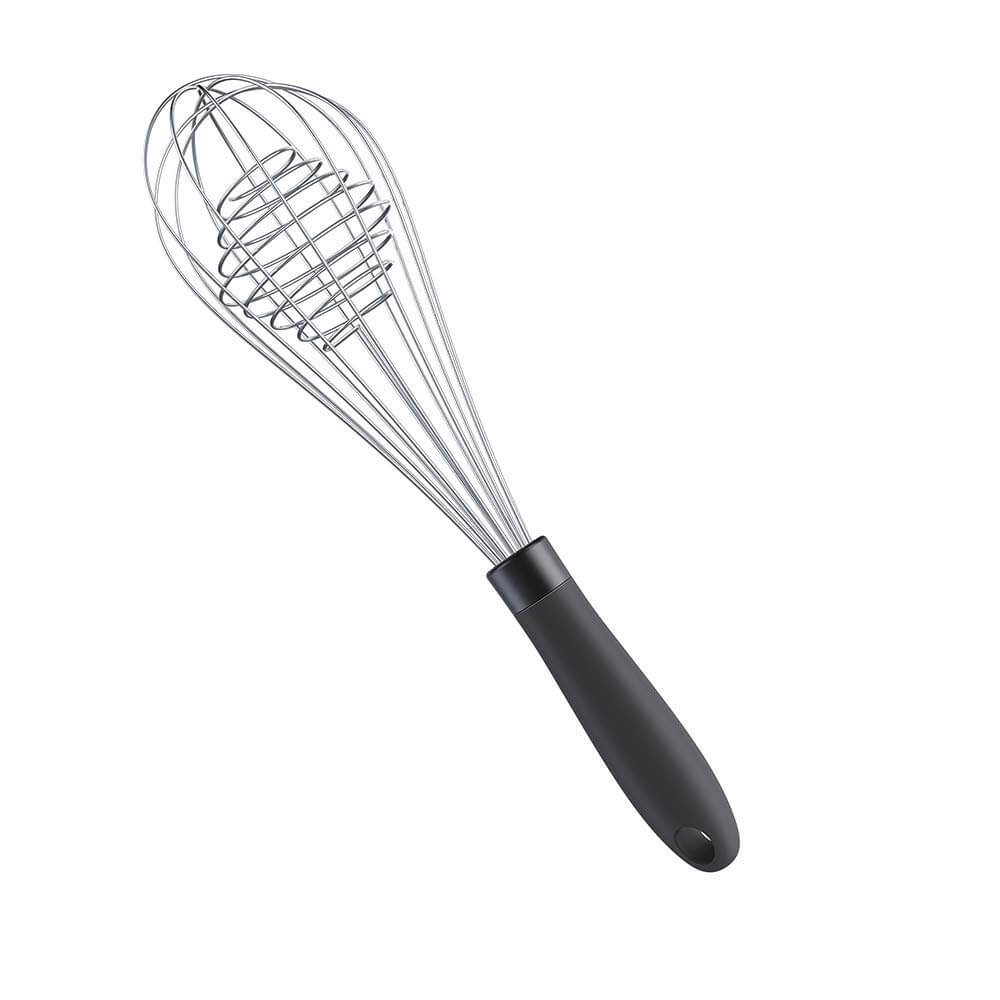 Key features
Size: 12″
Has a sturdy and nice grip
Additional wire in the middle of the whisk wires
Well-designed whisk for eggs and other baking needs
Are you an egg lover? Are you still using forks to beat your eggs and shouting for tiredness? Muclipkot Kitchen Wire Whisk is here to offer you the best balloon egg beater whisk. It is durable and sturdy as it is made of high-quality stainless steel and it also features a nice grip due to its lightweight.
With this whisk, you can mix eggs, prepare sauces toppings, icing sugar mixture, fresh cream and melted chocolate well. This whisk is a well-made addition to your cookware, especially if you are a dessert lover. The additional wire ball is anchored in the middle of the whisk wires is the prime feature of this balloon-shaped whisk. With this design, you can break up clumps easily and you can blend things together even better. Users have used less than 30 seconds to beat three eggs perfectly for their scrambled eggs with this whisk.
With its open tip design, you can not only break up ingredients faster, it is easier to clean too.
6. The Original Danish Dough Whisk
Key features
Must-have tool for mixing heavy dough
great alternatives to a blender, mixer or hook
Overall length: 13.5″
Feature wooden handle
If you wish to buy the best dough whisk, we are here to offer you the Original Danish Dough Whisk. We are rest assured that once you've tried this dough whisk, you will rate it as your must-have baking tools. This dough whisk is sturdy with its professional grade stainless steel and a secure wooden handle. Besides, it fits almost every recipe you have. You can use this whisk perfectly for your fresh baked pizza, sweet pie crust, mouth-watering pasta, delicate pastries, or artisan sourdough loaves and biscuits. This whisk is certainly the perfect hand mixer for all your baking needs. Instead of breaking your wooden spoon when you are mixing your dough, users find this whisk so useful that they can the whisk to hand mix up to 150 loaves of bread for a farmers market.
In addition, you can clean the whisk easily. You can just rinse under the cold water and use your fingers to get the dough out of any loops easily as the dough won't get caught in the wires, and it won't clump in the center. You can enjoy more relaxing time as you spend less time cleaning.
Still thinking of the old memories where you enjoy the bread made by your grandma? Why don't you recreate the memory by making your own homemade bread? By using this whisk, it is going to be easier to make homemade bread and share with those who are important to you. If you are not satisfied with the product, the manufacturer provide you 100% money back guarantee.
7. TEEVEA (Upgraded) Silicone Balloon Wire Whisk Set
Key features:
Best budget pick
Comes in a set of three- 8″+10″+12″ balloon whisks
Coated with heat-resistant silicone
Features hanging loops for every whisk
The TEEVEA Silicone Balloon Wire Whisk Set is certainly the best and the cheapest three pack whisk set available in the market if you are on budget. Instead of buying a whisk, you can get this set that gives you three balloon whisks with a similar price. That sounds like a must-have deal for me. You should not worry about the quality of these whisks as it is sturdier than the common ones. The manufacturer ensures the quality of the whisks by using more and thicker wires. The manufacturer produces these whisks more advanced craftwork.
The whisk wires are coated with silicone and it is heat resistant. You can be assured the silicone coat will not be chipped, that's a guarantee from the manufacturer. 10 years warranty is given if your whisks are broken and face any defect. Simply contact the manufacturer and they will provide their service.
Coming in the sizes of 8″, 10″ and 12″, these balloon whisks features thick metal handles and also a disc at the top and the bottom sealed. This will not trap moisture when you are cleaning. This whisk set is easy to keep as each whisk has a hanging loop at the end of the handle. You can hang it until you need it for your cooking work. You can use this whisk set in multiple ways such as blending, whisking, beating and even stirring jobs.
8. PomeloHome Stainless Steel Ball Whisk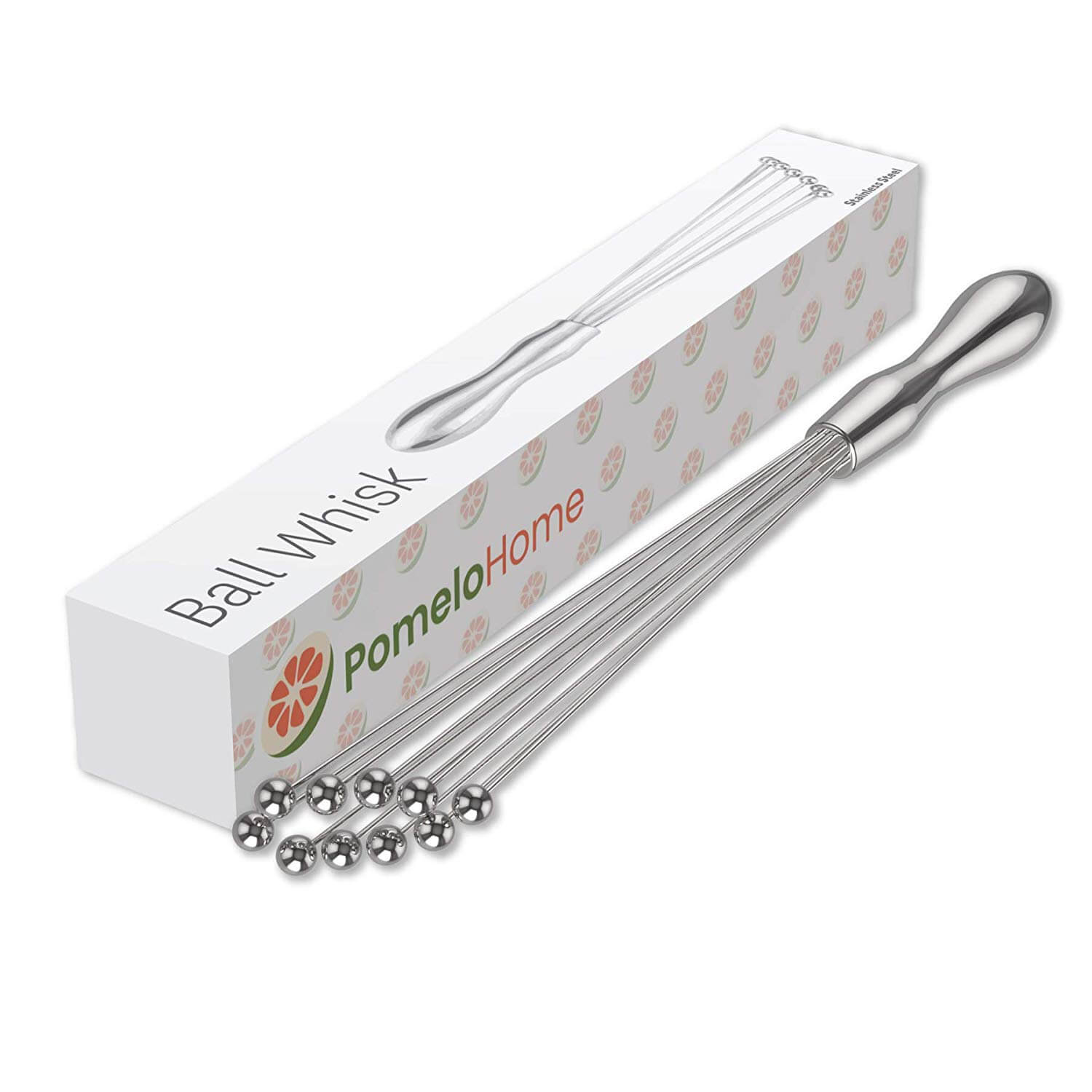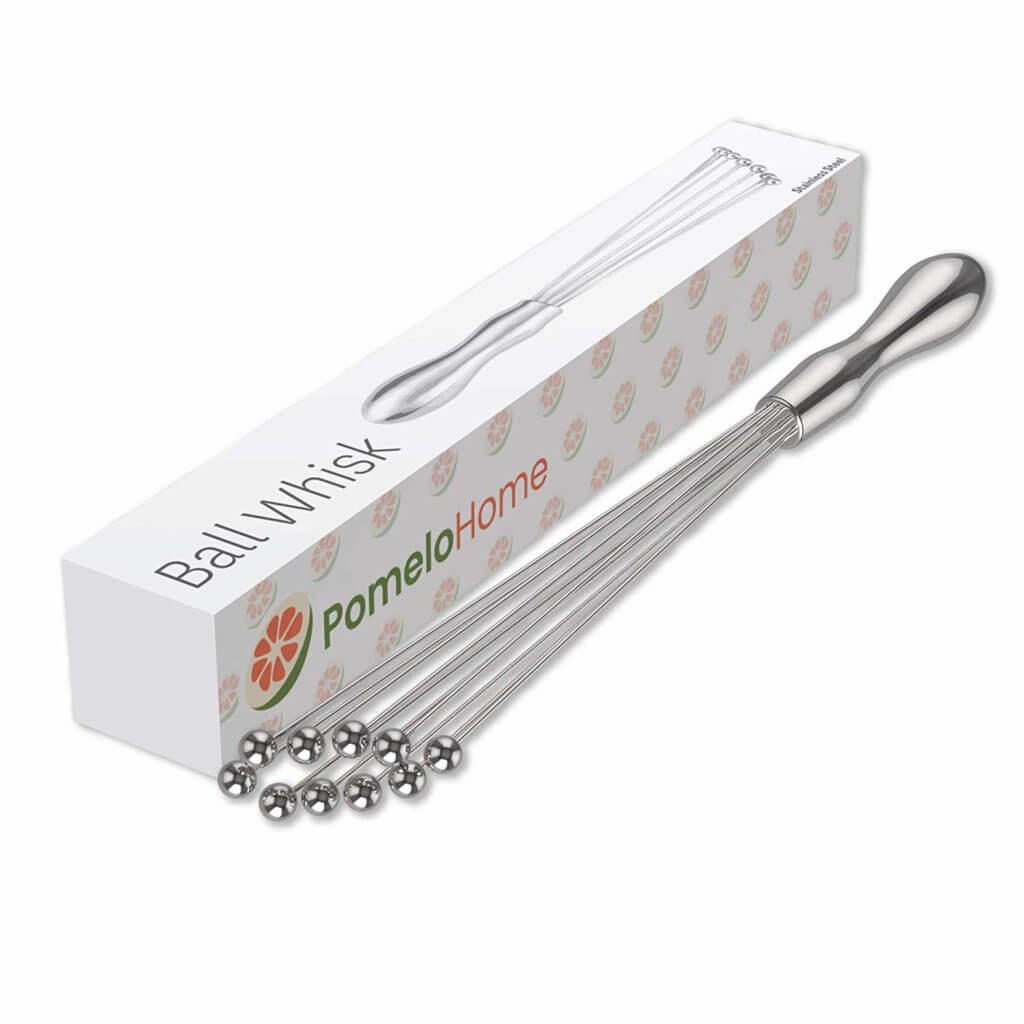 Key features
Size: 12″
Ergonomic handle for sturdy grip
Features high quality stainless steel
Feature long wires with ball end
Save energy-less effort needed to whisk and stir
Looking for a newer and more innovative whisk? Then, you can consider buying the PomeloHome Stainless Steel Ball Whisk, one of the best and unique ball whisks available in the market. Different from the traditional whisks, the stainless steel ball whisk creates fluffy eggs and smooth creamy sauces with less effort. The high-quality stainless steel is rust-resistant too; it means you can use this whisk for a long run. The whisk features an ergonomic and comfortable handle so that you can mix things well comfortably. Its overall balance allows the whisk to rest easily in a bowl keeping ingredients contained. On top of this, you will be amazed by how detailed the ball ends whisk can stir and reach every single edge of your bowl and how easily you can stir your ingredients with the ball end whisk.
The manufacturer also emphasizes on the user's safety too. The long wires can help to keep your hand away from heat while whisking on the stove. You can clean the whisk easily too by rinsing it under the water or just washing it in the dishwasher.
This stainless steel ball whisk is surely your perfect whisk for making creams, eggs, sauces, gravies, emulsions or even protein shakes.
9. Iconikal 12-Inch Collapsible 2-In-1 Balloon/Flat Whisk
Key features
Size: 11.25″
Features 2-in1 whisk (consists of balloon and flat whisk)
Construct out of ABS plastic
Wires in green colour
Iconikal 12-inch collapsible 2-in-1 Balloon/Flat Whisk is definitely the best collapsible whisk if you are still considering whether to buy a balloon whisk or a flat whisk. Simple twist the bottom of the handle and change to the whisk you need. This is the perfect whisk if you wish to make roux, pan sauce and beating egg whites side by side.
Made of durable ABS plastic, you can ensure a long run usage of the whisk. Another highlight of the whisk is that you can fold it flat. This would make your kitchen utensils organisation and storage a lot easier. You can clean it easily as it is safe for washing in the dishwasher.
10. Stainless Steel Semi-automatic Egg Whisk
Key features
Comes in a set of three hand push rotary whisk blenders
Length: 10″, 11.9″ and 14.3″
Semi-auto design
Multifunctional
You will regret if you miss this stainless steel semi-automatic egg whisk as this whisk set is the best semi-automatic egg whisk in the market. It consists of three hand push rotary whisk blenders that are quick and easy to use. Just press down vertically, stir quickly and your mix is ready. You can save your time and also conserve more energy by mixing the ingredients fast with this whisk.
Besides, you do not need to worry about bending or breaking often as this whisk set is made of durable and food grade stainless steel. You can use this whisk for a variety of cooking work like mixing, whipping, foaming coffee drinks, making whipped cream, salad dressings, gravy, sauces, mayonnaise and even meringues. It is easily cleaned too. Simply wash it with soapy water and rinse off.
Whisk buying guide-What to look for it?
You kitchen experience will be better with a whisk. For beginners, we recommended you the balloon whisk. However, you should buy dough whisk for heavier tasks such as mixing and pre-kneading bread dough. Before deciding on which whisk to buy, you should consider and compare these factors along with the options available in the market. With this, you can surely make a wise choice.
Conclusions
As an experienced baker and home cook chef, I truly understand the frustration of not having a good-quality whisk. With a vast variety of choice available in the market, you should look into your needs for your kitchen. You can consider the shortlisted 10 models in this review to ease your shopping experience.
Here, we have shortlisted the best whisks available in the market. They are made of high quality polished stainless steel and some are even coated with silicone. Choose one of these recommended whisks to ensure a long-lasting and safe service in the long run.
Last update on 2020-04-06 / Affiliate links / Images from Amazon Product Advertising API