Love delicious, creamy yogurts? You may definitely like to try preparing your own at your home. It is fairly and you can easily control the flavors and ingredients. You just need is a yogurt starter and milk. You can buy dried starters in packets or you can simply use a store-bought plain yogurt as starter with active cultures. You may need to mix the cold milk and starter according to some instructions. While some suggest boiling milk first to high temperature and to let it cool to ferment its temperature before you add yogurt and let it to ferment. Be sure to follow manufacturer's instructions given on the starter for your machine.
If you are making homemade yogurt, you should make plain yogurt and add in flavors, sweeteners, fruits, chocolate or anything you like after fermenting it. You can make the thick Greek yogurt by straining yogurt with fine-mesh strainer or with coffee filter or cheesecloth to remove some whey. You can make yogurt cheese if you keep straining, which is spreadable and thick like cream cheese.
When buying yogurt maker, figure out whether you like to make yogurt in jars or in a large batch.
If you want so strain yogurt, make it in large batches. For ready-to-eat servings, you can make it in separate jars. After deciding your style, you can choose from these yogurt makers.
Best Yogurt Maker Reviews For 2018
1. Euro Cuisine YM80 Yogurt Maker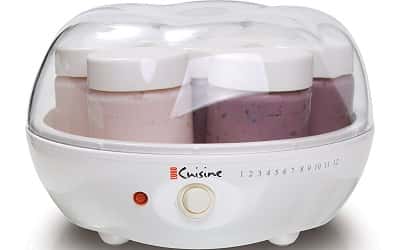 Euro Cuisine YM80 Yogurt maker is designed to make fresh yogurt at home and you can add flavor of your choice without any preparation and stress. It takes around 6 to 10 hours to prepare yogurt.
It has 6 Oz glass jars with caps included in the yogurt maker so you can easily make different flavored yogurts in each. It has timer to indicate when yogurt is ready. It also has on/off switch and light indicator. If you want to prepare firmer yogurt without having to boil, simply add 10 tbsp of powdered milk to pasteurized milk in room temperature before you pour it in glass jars.
Key features
Seven 6-oz. glass jars for seven types of flavors
Features light indicator and on/off switch
BPA-free product with 3 years warranty
Timer marks when yogurt is ready
2. Yogourmet 104 Electric Yogurt Maker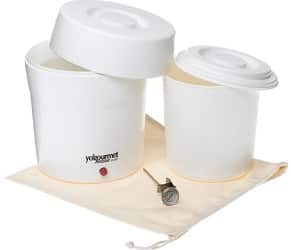 Yogourmet 104 Electric Yogurt maker helps you to save money on commercial yogurt cheese, bottled yogurts and cultured milks. You can enjoy creamy, rich yogurt by making your own at home. You can prepare natural yogurt with different health benefits. You can control the flavor and ingredients. So, you can have peace of mind about what you are eating.
Whether you love to have yogurt as an alternative to sour cream on baked potatoes, with granola in breakfast, as an on-the-go snack, or as ingredient in your baked goodies, this food is literally versatile and so is Yogourmet Electric Yogurt maker.
Key features
Maintain the right temperature to prepare natural and healthy yogurt
Ideal for your carbohydrate diet
Inner container is dishwasher safe
3. Euro Cuisine GY50 Greek Yogurt Maker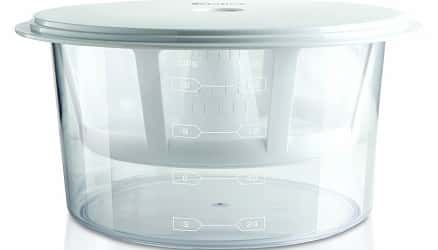 Euro Cuisine proudly introduces the world-class GY50 Greek Yogurt Maker. Euro Cuisine is the European leader in the US market offers best products to American consumers. Now it introduces GY50 Greek Yogurt maker which prepares your dishes easily and quickly.
It is a great BPA-free strainer kit which turns around 2-qts of Euro Cuisine homemade yogurt or you can store store-bought yogurt into creamy, thick Greek yogurt in few hours in your fridge. Enjoy healthy spreads and dips, low-calorie salad toppings, Tzatziki or sweet berry desserts with healthy homemade yogurts prepared by this machine.
Key features
Turn around 2-qt of plain store-bought yogurt into creamy Greek yogurt
BPA free parts
Recipe book included
Best for homemade or store-bought yogurt
4. Cuisinart CYM 100 Electronic Yogurt Maker with Automated Cooling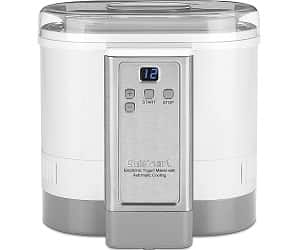 Cuisinart CYM 100 electronic yogurt maker is designed well to turn your soymilk and milk into healthy yogurt quickly and automatically. It is great for yogurt lovers to create different flavors and it has 1-1/2 liter batch to make delicious snacks and meals for days. It is also easy to operate. Unit turns automatically into cooling mode once time for processing is over.
It is a perfect staple for modern health-conscious foodies who want to eat healthy. Yogurt contains probiotics along with calcium and protein that are needed for healthy digestion. When making yogurt at home, it literally takes the guesswork out.
Key features
Integrated cooling system which turns on automatically for perfect chilling temperature
Make up to 8-ounce of yogurt in one attempt
Digital time display
5. VonShef Automatic Digital Yogurt Maker with LCD Display and Seven 6.8 Oz Yogurt Jars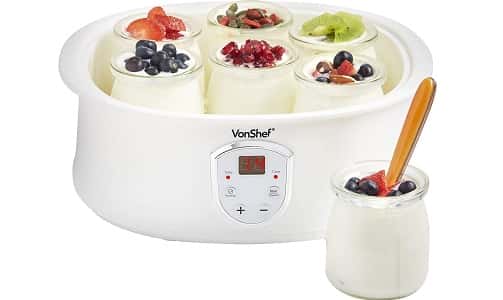 Make healthy and nutritious yogurt at home with this automatic digital yogurt maker from VonShef, which comes with seven 6.8 Oz yogurt jars and LCD display. Make the dreamy, creamy yogurts with few simple steps. Add culture or yogurt to pre-heated milk and add up your creativity by experimenting with ingredients and flavors.
Fill yogurt with your loved dried fruits or get naughty with choco chips. Experiment with varied levels of thickness also. It also ferments and cools down ingredients to prepare 100% healthy and natural yogurt with no preservatives, colorings and artificial flavors.
Key features
100% healthy and natural yogurt created at your home with different flavors and ingredients.
LCD control panel to create delicious yogurt precisely
Make 1.5 L of yogurt in 7 jars of 6.8 Oz capacity in each
6. Proctor Silex 86300 32-oz. Stainless Steel Yogurt Maker
Say 'goodbye' to store-bought yogurt and make your own at home instead, by using this 32-oz stainless steel yogurt maker from Proctor Silex. You can have absolute control over what you add in your favorite yogurt recipe, whether you want low-sugar or non-dairy options. You can even replace syrups with fresh fruits. Proctor Silex yogurt maker is your best stable to prepare your own yogurt without using any other appliance.
You would have to add culture at very low temperature in oven without yogurt maker and it takes several hours. With Proctor Silex yogurt maker, you can save energy and time and leave your oven free for preparing other meals.
Key features
Convenient digital timer and controls for precise preparation
Includes recipes to prepare different types of yogurts
Convenient and easy to store container
Countertop culturing
7. Flexzion Yogurt Maker Machine with 7 Containers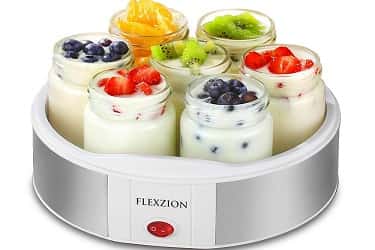 This automatic yogurt maker from Flexion has made it very simple and easy to make yogurt at home. You just need to add fresh ingredients and fruits and you will be amazed with how easy and simply you get your homemade yogurt ready. You can test up to 7 flavors in one batch and you will definitely get some exciting flavors. From Greek yogurts to fruity flavored ones, the choices are endless.
Key features
Make 100% healthy and natural yogurt at home with organic milk
Test different thickness levels and flavors
Make healthy and fresh yogurt at your home
Make around 7 types of flavors at first attempt for nutritious and healthy batch
Features 7 dishwasher safe containers
8. Luvele Pure Plus Yogurt Maker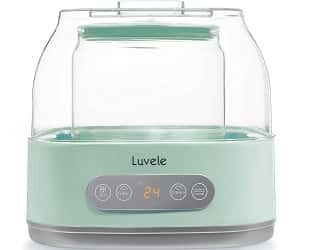 Create your favorite GAPS and SCD diet friendly, Additive and Preservative Free, and probiotic-loaded yogurt in natural and simple way with Luvele Pure Plus yogurt maker. It has 24-hr digital timer to create your favorite yogurt and 3 temperature settings to set the yogurt to 36, 38 and 40 deg. C, ideal temperature to grow good bacteria and flourish active cultures.
Key features
24 hour digital timer for GAPS and SCD diet friendly yogurt
Water-bath technology for even and accurate temperatures
Touch-panel waterproof design
9. Dash DGY001WBU-C Greek Yogurt Maker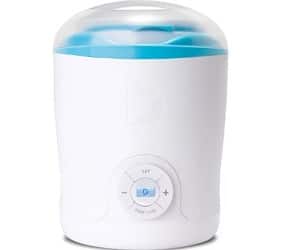 Do you love healthy, creamy Greek yogurt at home? You should definitely invest in Dash DGY001WBU-C Greek yogurt maker. It adds all of the probiotics to your favorite Greek yogurt without having to add flavorings or artificial colorings. Simply use any kind of milk and some store-bought yogurt to start.
It also includes a complete recipe book with quick-start dial for quick reference. You can also access other recipes with ease. You can make healthy gourmet delicacies and make custom flavors.
Key features
Make Greek yogurt up to 2 quarts with ease
LCD display having custom timer
1-year original manufacturer warranty
Dishwasher safe components
10. Euro Cuisine Greek Yogurt Maker and Stainless Strainer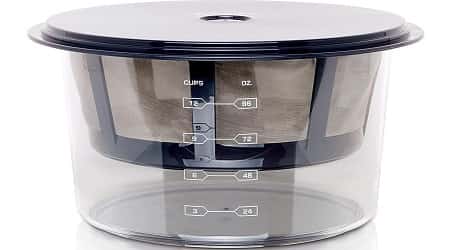 Make your favorite treats in easy and instant way with Euro Cuisine Greek Yogurt maker that comes with stainless steel strainer, which turns around 2-quart homemade or commercial yogurt into creamy, thick Greek yogurt in hours in your fridge. No need to crank or spin yogurt.
Key features
Made of BPA-free plastic
Comes with recipe book
Stainless steel strainer
Summary
The yogurt makers listed above are designed to make your life easier by preparing yogurt at home. We hope this post has cleared out your doubts when buying yogurt makers. You can make yogurt easily and comfortably with these yogurt makers.