Vegetable peelers serve different purposes in both home kitchens and professional settings day by day. These simple tools can do a lot of things. They can peel off the vegetable and fruit skins, without damaging the flesh of vegetables and fruits underneath.
You can find different types and styles of vegetable peelers out there. Choosing the right one shouldn't be a difficult thing. These days, peelers have been even better than our older generations used. Peelers are now made of better materials and are built for ease of use and comfort. They come in different designs. Blades of vegetable peelers can be swivel or rigid and can sit perpendicular or parallel to its handle.
The peelers listed here combine creativity and functionality. They have sharp edges, smooth movements, and comfortable grip to have great peeling experience.
If you are looking for a brand new vegetable peeler, you are at the right place. We will take a detailed look at some of the best vegetable peelers out there so you can make best decision for your food preparing.
Best Vegetable Peeler Reviews 2018
1. OXO Good Grips Swivel Peeler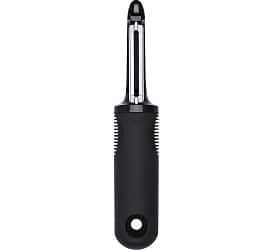 Whether you are peeling a fruit with tougher skin or an apple, the OXO Good Grips swivel peeler is the best tool for your kitchen. It has rotating and flexible stainless steel blades with which peeling is made simple as it contours to all surfaces and shapes. It has integrated potato eye remover which can carve out blemishes with ease. OXO swivel peeler has stainless steel blades which can easily get through toughest vegetables and fruits. It has soft and comfortable handle with non-slip grip even though it is wet.
OXO Good Grips range comes with non-slip, durable and flexible handles. It is designed ergonomically to fit your palm softly and comfortably. It has pressure-absorbing rubber handle to put less stress on your hands and still provides solid grip. Handles are slip proof and dishwasher safe.
Key features
In-built potato eye remover
Flexible and rotating stainless steel blades
Ergonomic, comfortable handle with good non-slip grip
2. Kuhn Rikon 3-Set Original Swiss Peeler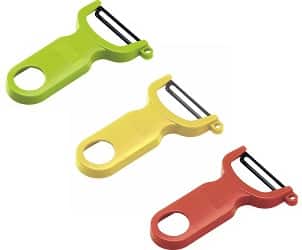 Kuhn Rikon Original Swiss Peeler has sharp blades that get the job done easily and nicely. It is a handy tool to peel veggies and fruits smoothly. It is a small powerhouse in your kitchen which delivers ultra-sharp performance for professional chefs. After each use, it is recommended to hand wash and towel dry to avoid eventual rusting and dullness of blade.
Key features
Carbon steel blades stay sharper
Ergonomic design for both left and right handed use
Potato eye remover
3. OXO 21081 Good Grips Y Peeler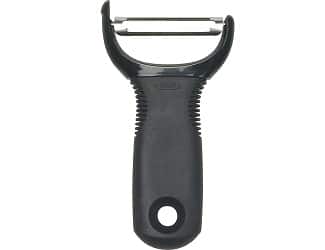 OXO 21080 Good Grips Y Peeler is the fastest and easiest tool to peel vegetables and fruits, especially potatoes. If you have been losing too much veggies and fruits while peeling with a kitchen knife, this tool is just built for you. In addition, using kitchen knife to peel vegetables and fruits is also risky. Even worse you cut your hands with it. With this Y peeler, you can peel them fast and confidently. It is literally very sharp. It also comes with potato eye remover, which is a great thing in itself.
Key Features
In-built potato eye remover
Sharp stainless steel blades
Comfortable handle
Dishwasher safe
4. Spring Chef Premium Swivel Vegetable Peeler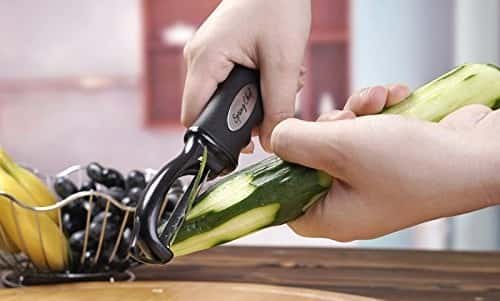 At No. 4 is one of the best peelers according to the users. Spring Chef Premium Swivel vegetable peeler is designed with comfortable handle and ultra-sharp blades which are very thick and sturdy, when most peelers come with flimsy blades. You can use it on various vegetables like carrots, potatoes, cucumbers etc. and it does a great job. It is also easy to control and grip and clean up. The dual stainless steel blades won't clog thanks to Smooth Glide Technology.
Key features
Dual stainless steel blades make it strong and durable
Smooth Glide technology – blades won't clog with peels
Non-slip comfortable handle for both right and left handers
Lightweight and ergonomic design
5. Linden Sweden Original Jonas Vegetable Peeler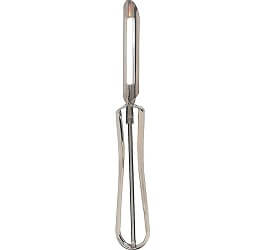 If you are still peeling potatoes or apples with a paring knife, you know how painful and risky it is. It is not just hard to get consistent, thin cut, they are also very stressful and painful. Make meal prep easy and avoid the risk of cutting your hands by choosing Linden Sweden Original Jonas vegetable peeler. It is very versatile peeler for both veggies and fruits thanks to super-sharp blades that can cut through skins and peels. Whether you are prepping your favorite apple pie or creating ribbons for garnishing, its ground swivel design peels of your veggies and fruits with precision.
Key features
Ergonomic, comfortable handle
18/10 food grade stainless steel blades
Dishwasher safe
Easy to use, cleanup and store
6. UberChef Premium Ultra Sharp Stainless Steel Vegetable Peeler and Julienne Peeler with Cleaning Brush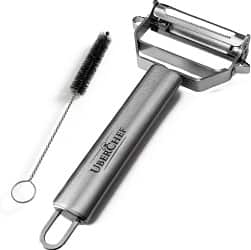 UberChef Premium Ultra Sharp Stainless Steel Vegetable and Julienne peeler saves time and effort in your kitchen. It has the sharpest blade in the market that can shred almost anything like zucchini, cucumbers, potatoes etc. Only few people have time to prepare meals which need proper slicing and cutting. Slicing one piece of zucchini, potato, and carrot is really boring.
Simply glide this julienne blade through the vegetable and you can do in seconds what used to take hours. It is now easy and quick to make healthy vegan, vegetarian, side or paleo dishes or cheese.
Key features
Made of Culinary-grade best quality stainless steel
Comes with cleaning brush
Prevents rust for longer
Garnishing tool for finishing touch on dishes
7. OXO 1137680 Good Grips 3 Piece Peeler Set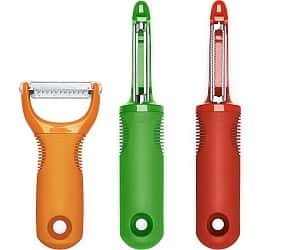 This 3-pc peeler set from OXO Good Grips has sharp blades of stainless steel. It removes simply the peel rather than digging into fruit underside. It has got comfortable handle so it can easily manage repetitive job of peeling and make it more fun and easier.
It has serrated peelers and swivel with in-built potato eye remover. It has got sharp stainless steel blade to peel off vegetables and fruits. It has got sharp stainless steel blades to have julienne strips and it has flip-top and clear safety cover.
Key features
Sharp and serrated stainless steel blade to peel slippery and waxy fruits and vegetables like plums, peaches, zucchini and tomatoes
Comfortable, soft non-slip handles
Serrated and swivel peelers with in-built potato eye remover
Dishwasher safe
8. KitchenAid Euro Peeler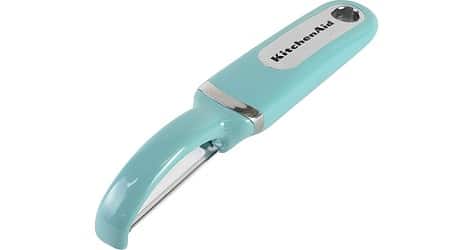 KitchenAid Euro Peeler is a stylish and sleek design making it easier and smoother to peel vegetables and fruits. This vegetable peeler has swivel head blade made of rust-proof and tough steel. It has got ergonomic handle for smooth and comfortable grip. It has compact size for easy storage. It is absolutely dishwasher safe.
Key features
Swivel head blade made of rust-resistant, tough steel
Ergonomic handle for comfortable grip
Compact size
Plastic sheath to protect the blade
9. AwsumPlanet Ultra-Premium, Sharp Stainless Steel Dual Julienne and Vegetable Peeler with Cleaning Brush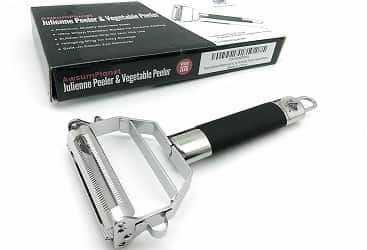 Slice, peel and julienne veggies with AwsumPlanet stainless steel sharp julienne slicer and vegetable peeler. You can slice off, peel and julienne vegetables smoothly and easily without added mess or waste. It has comfortable and high quality stainless steel non-slip handle for firm grip without any pressure.
Key features
Sharp stainless steel julienne slicer and vegetable peeler
Non-slip handle for firm grip
Hanging ring
In-built potato eye remover
10. Linden Sweden Fruit and Vegetable Peeler

Made in Sweden, Linden Sweden Fruit and Vegetable Peeler are ideal for carrots, apples and potatoes. It has soft grip handle so you can easily peel and julienne vegetables and fruits without pain and cramping.
It is efficient, fast and classic staple for your kitchen to make food prep faster and easier than ever. From delicate cucumbers to tough squash, its razor-sharp blades can handle it all. It has ground wheel swivel which glides through the bumps and curves of your food.
Key features
Made of 18/10 food grade stainless steel
Dishwasher safe
Ergonomic, soft grip handle
Bottom Line
Even with having simple tasks and design of vegetable peeler, it is still a great kitchen tool you may need in your drawer. With different designs and styles to choose from, you can choose from many designs and it can be confusing for you. Most people base their decisions on their guesswork. But you shouldn't rely on guesswork if you have the right information on your hand to sort through all the options and make wise decision to meet your needs.
You can choose from different kitchen gadgets to make your life easier and more efficient. A vegetable peeler has a unique importance in your kitchen to care for all your fruit and veggies peeling needs.
We hope the above list will help you choose the right product and save your money, time and stress.